Marine Conservation

By Dr J Floor Anthoni (2001)
www.seafriends.org.nz/issues/cons/marine.htm

To save the sea is quite different from saving wildlife on land. The sea is such a unique place, so strange, and most of it has been left relatively undisturbed. Marine reserves are one of the ways to reduce threats to the sea. To create a marine reserve should be easy, but our ignorance of the sea and how to protect it, has caused some failures from which we should learn. Learn to do the right things for the right reasons. Unfortunately the science of marine conservation is replete with untested myths , fallacies and lies that prevent us from finding the right solutions.
.
An introduction to this article. The main threats to the sea, and our conservation toolkit to combat these. Levels of protection and kinds of marine reserves.
An exhaustive list of perceived benefits, many of which have not been proved, living in our minds only, or having limited applicability. What marine reserves can't do and what they do extremely well.
Objectives and perspectives of terrestrial and marine conservation. Thinking logically about a new conservation strategy, based on Dr Bill Ballantine's ideas: Representative networks of marine reserves, representing all climate zones and habitats. Rotational closed areas. The thistledown effect.
An historical perspective. Factors in terrestrial and marine conservation. The results of 25 years of active marine conservation in NZ. Heavy rain, the new threat. Degraded and degrading marine reserves.
Gradually a consensus appears about how to save the marine environment. By focusing on biodiversity rather than benefits, the human factor becomes less important. Here are some action points.
Understanding spillover and larval dispersal, networks of marine reserves and why many reserves fail.

related pages
on this web site

Frequently Asked Questions about marine reserves, with honest and incisive answers. (23 p)
Myths and Fallacies in speeches and newspaper articles, dissected by Floor Anthoni (large)
From hunter to caretaker: an article about marine conservation, containing the essence of this chapter, and with discussion points at the end (19 p, needs updating)
Threats: a summary of threats to humans, land, soil, water and air. (20 p)
Realms: a summary of the most important ecological realms: land, soil, fresh water and seas. (4 p)
Marine habitats: an introduction to marine habitats and their strange living conditions. (14 p)
Soil: dependence, geology, fertility, sustainability, degradation, erosion and conservation. (120 p)
Marine reserves are not working. Why hurry? A press article written by Floor Anthoni, Jan 2001. (4p)

Marine Reserves Act (1971) updated to 1961. Printer-friendly version. (16p)
Marine Reserves Act (1971) original version updated to 1987, now obsolete. (12p)
Marine Reserves Bill 2002 submission: our submission to the proposed MRA2002. (4p) Visit the DoC web site for a complete version of this Bill, and more (8 p, PDF). Read a summary of this bill.and read for comparison the submission of the Marine Sciences Society [broken link: http://www.rsnz.govt.nz/clan/nzmss/MRAsubmission.doc] and that of Forest and Bird .
Executive Order 13158: Marine Protected Areas, May 26, 2000, U S A equivalent of NZ's MRA. (3p)

Fishing: a chapter about fishing, whaling, overfishing and fishing regulation (planned)
Global warming: a chapter about the mechanisms of global warming and its consequences. (7 parts, must-read!)
El Niño: a chapter about the mechanism of the El Niño weather phenomenon. (planned)

Internet links
Reader please not that this chapter on marine conservation builds further on the principles outlined before. Make sure you have read the chapters on resource management, biodiversity and principles of conservation, before proceeding with this one. It is at least important to understand the enormous differences between life on land and in the sea, discussed in biodiversity/marine., and in introduction to marine habitats and realms.



Disclaimer

The Seafriends web site is dedicated to the preservation of our oceans and the world in general. It does so by looking at all aspects of our problems and how to understand these. Only by the process of understanding, and by being strictly honest, can each of us contribute with what he can do best. We are not greenies who wish to push our beliefs onto others, but we want knowledge, logic and common sense to prevail. We can see how and when marine reserves fail, and unfortunately we have seen many such failures. We understand the limitations of marine reserves. Only by being honest and by understanding our mistakes, can we hope to progress to better solutions that will work and will keep working. Unfortunately, we have often been brushed off as anti-conservationists, or being against marine reserves. Nothing could be further from the truth. This 'controversial' chapter therefore, should be read with care, since (hopefully) it forms the basis for policies towards better marine conservation. There are so many zealous conservationists travelling the globe while lecturing and writing about marine reserves, which they have never visited under water themselves. This chapter was written by someone with over 2000 dives inside and outside many marine reserves.

The literature on marine reserves is prolific, since anyone can make a contribution. It disappointed me that it took a year longer than planned, to write this chapter. It is an indictment of science that so much pure opinion is being published and so little hard fact. In fact, a new discipline is about to be born, leaving the public out of the field. I have therefore tried to distill all important thoughts and facts, so that nothing important is left out. In this way you can learn what matters in a short while, to play your role in marine conservation, with what you can do best.

Although marine conservation and marine reserves have international importance, most of this section will be illustrated with the New Zealand situation, partly because that is what I am familiar with, and partly because New Zealand wishes to lead the way in this aspect of human endeavour.

Floor Anthoni, December 2002.

Note! for best printed results, set your page up with a left margin of 1.5cm (0.6") and right margin of 1.0cm (0.4"). Read tips.
-- home -- conservation index -- top -- Rev:20021206,20030130,20030417,20030506,20031212,20140113,

---
Introduction
The sea is a large body. Not only is it vast, covering nearly three quarters of the globe, but it is also deep. As opposed to the terrestrial habitat, which is smeared over the surface of continents in a layer no more than 40 metres thick (and effectively much less), the sea is 4000m deep on average, with places descending to 10km. The sea is also a very different kind of habitat, almost unimaginably different from the terrestrial world we know so well. It is a hostile place, impossible to travel to by foot or automobile, and even by boat, can be very unpleasant. Please read about this in biodiversity/marine. The sea is not inhabited by people and therefore does not suffer the consequences of extensive habitat change (forests into pastures), habitation (cities and roads), and whatever civilisation has wrought (extraction and pollution of various kinds plus introduced species). One would thus be tempted to ask whether the sea needs conserving at all.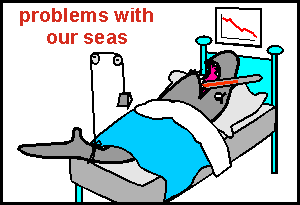 The seas have always been a dependable provider of protein-rich food, to the extent that as recently as fifty years ago, the oceans were thought to be able to provide all the food humanity needs. However, in recent times, the inexhaustible bounties of the sea have shown their limits. Fisheries everywhere in the world have either reached their limits or have collapsed. In all, our report card for managing the oceans, does not look good. But it has not been for lack of trying. Most nations have established controls over their inland and marine fisheries a long time ago, in order to protect them from overexploitation. The recent creation of Exclusive Economic Zones (EEZ) around fishing nations, is yet another tool in the toolkit of marine conservation. So, what are the current threats to our seas and what are our tools to manage these?
As the world population increases at its fastest rate ever, the sea experiences a very sudden increase in stresses, some old and some new:
exploitation: fishing in all its forms is an old use of the seas, but we have become so good at it, that our efficiency threatens almost every habitat in the sea, down to 800m deep. Fishing arises from our need for food, but recently also for non-food items such as shells for collectors, fish and invertebrates for aquariums, and so on. In tropical seas almost every species living in the sea has been exploited to excess.
competing with humans for food: due to technology and cheap fossil energy, we are able to fish far more effectively than any other creature on earth. In doing so, we out-compete them, resulting in a decline of top predators like bass, sharks, dolphins and some whales.
soil erosion: although erosion is a natural process, humans have increased it by 10-100 times. With huge earth-moving machines, Man creates comfort around him for habitation, industry and roads. Being at the bottom of civilisation, everything Man does, results in some effluent reaching the sea. Soils contain the fertility of our land, and this is washed into the sea, resulting in disastrous loss of life, especially close to the coast, where most biodiversity occurs.
nutrient discharge: although our society speaks in terms of recycling, the most precious of all substances, our sewage, is not recycled. After 'treatment', it flows into the sea where it fertilises the water, causing dense and poisonous plankton blooms. As farms become more intensified (see the chapter on soil/fertility), they leach more of their fertilisers into waterways and into the sea, with similar effect. When the plankton blooms densely, most of it sinks to deeper water to be decomposed, requiring oxygen. As these blooms also obscure the light from penetrating the depth (which allows the production of oxygen by plants), the sea may become anoxic (lacking oxygen). Huge dead-zones are now found in many places.
chemical pollution: society has become more and more dependent on chemicals of all kinds, from perfumes to fertiliser. The ones used in large quantities, while having the most profound and lasting effects (biocides, hormones, fuel additives, heavy metals) are also the most damaging to nature. Eventually they end up in the coastal zone, where they become diluted by the large water mass of the ocean. However, marine creatures have evolved in an environment of scarcity, which has endowed many with the ability to concentrate scarce substances inside their bodies. Particularly planktonic organisms do so, and those feeding on them. Through this path, chemicals become concentrated once again, this time to kill top predators first (birds, dolphins, fish for human consumption) and people later.
oil: many oils are liquid and gaseous hydrocarbons of geological origin. While some oils are naturally occurring, most arise from human activity: refined petroleum products or their derivatives (exploration, exploitation, transport, use). Some oils are volatile or easily degraded and disappear rapidly from aquatic systems, but some may persist in the water column or in sediments. Oils may be toxic to aquatic life when ingested or absorbed through skin or gills, interfere with respiratory systems, foul fur and feathers, smother aquatic communities, habitats and bathing beaches, taint seafood and contaminate water supplies. However, being a natural product, nature is able to undo oil spills surprisingly quickly. Sensitive areas are sheltered coasts with high tidal ranges; estuaries; cold places where biological activity is low and oils become thick while evaporating only slowly.
exotic species introduction & marine farms: while spreading across continents, the human race has spread many of its favourite species like crops and domestic animals, but also diseases. Very recently Man has systematically spread almost every species of plant to every continent, not for food but for pleasing appearances in his gardens. He has also spread many animal species for similar reasons. As a result, most places in the world now look very much like one another, and will become more so in the future. The sea has relatively been spared these destructive influences. The seas have also always been interconnected more than the land masses. As a result, each island or continent has a few endemic species that occur only there and nowhere else. But oceans, although interconnected, have their barriers to the wanton spread of organisms. However, these are now crossed by ships, with organisms clinging to their hulls and inside their ballast waters. Not surprisingly, marine species have unknowingly and unintentionally been spread to places where they do not belong. Some have been able to reproduce successfully, making a nuisance of themselves in their new home sea, to the detriment of endemic species. Marine farms add another dimension by their possible release of alien species, in-bred genes or disease. However, compared to the wilful introduction of alien species on land, the sea has largely been spared.
disturbance: the seas have been spared the planned and wholesale disturbance of agriculture and urbanisation, but nets are trawled over bottoms that are at times not sand or mud, but rocky platforms full of slow growing life forms. Also during mining operations, particularly the extraction of sand, benthic (bottom) marine communities can be disturbed. However, overall, this is substantially less than what Man has done to his land.
debris pollution: we are supposed to recycle our wastes, or at least dispose of them in an environmentally friendly way. It is not at all difficult to do, but in the process of working with the sea, nets are lost. These keep catching fish for a while (ghost nets), until they become rolled up by storms or decay spontaneously. Likewise, lobster pots and other fish catching gear is lost. Not long ago, fishermen ditched anything no longer of use, over board. It is still practised by almost all large ships on the open seas, believing that rubbish can do no harm at 3km depth, but progress has been made towards curbing this practice. Floatable plastics disperse over large distances, only to land on some other country's beaches. However, nature has its ways of disposing of our rubbish: aluminium cans disintegrate within 10 years; reefs grow over rubbish in shallow water; sea water is highly corrosive, eating away at steel, aluminium, wood and other materials. In general, rubbish does not significantly impact on marine environments.
global climate change: it is thought that the climate is changing globally due to the side effects of human existence. As a result, some areas become drier, others wetter, but this won't affect the seas very much. Some places become warmer, others cooler. This is detrimental to many natural forests, because they cannot move easily. The sea is very much less affected by such changes, because marine organisms can move freely over large distances (their larvae), and many habitats are contiguous or interconnected. The sea is also more moderate in its extremes of temperature.
acidification: Much ado is being made of seas becoming less basic due to dissolved CO2.It is feared that whole ecosystems will change and corals disappear. However, there exists much dishonesty about this. Read our ocean acidification chapter (large and important).
pathogen discharge: disease-causing organisms (pathogens) are found all around, in every drop of water. The ones we fear are those able to cause disease in humans, and it is no surprise that these are spread by humans. However, it is not likely that human pathogens (e.g. in sewage) will have a noticeable effect on marine organisms.
nuclear wastes: nuclear wastes are a new possible threat to oceans, particularly when oil runs out and nuclear energy is again considered an alternative. The deep bottom of the oceans has always looked attractive for dumping nuclear wastes. Radioactive elements can be concentrated by marine organisms, returning to the food chain where it can possibly harm humans. However, the oceans are a very large body of water, with a background level of radiation always present. For humans to increase this noticeably, the way they have increased carbondioxide in air, requires an awful lot of free radioactive nuclei. Furthermore, most nuclear fuel and waste is insoluble and has a low level of radioactivity.
heavy metals: heavy metals are natural constituents of the Earth's crust. Human activities have drastically altered the biochemical and geochemical cycles and balance of some heavy metals. Heavy metals are stable and persistent environmental contaminants since they cannot be degraded or destroyed. Therefore, they tend to accumulate in the soils and sediments. They remain captured above the continental shelves. Excessive levels of metals in the marine environment can affect marine biota and pose risk to human consumers of seafood. Sources of these are: mining, foundries, smelters, manufacturing, piping, dredging, traffic, volcanic activity. Heavy metals include lead, mercury, cadmium and others.
habitat loss and fragmentation: see disturbance above.
In the summary above, the most pressing threats to the sea are by far: overfishing, soil erosion and nutrient discharge. Whereas overfishing has its natural limits (you stop fishing when there is no more fish), soil erosion and nutrient discharge appear to be limitless, and they are increasing rapidly. Read about soil erosion on this web site.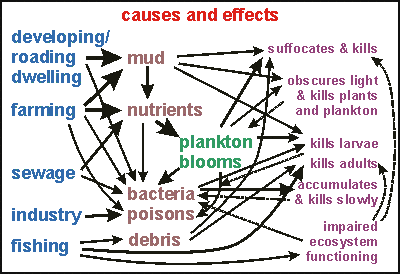 Causes and effects
The diagram shown here sums up the most important threats to the sea, what causes them, and what effects they have on the marine environment. In brown the main products (agents) from civilisation: mud, nutrients, poisons and debris.
When cuts are made in the land, either by ploughing, roading, development and dwellings, heavy erosion follows. The mud, and particularly its finest particles, the clay, cannot be stopped by sedimentation ponds or other inventions, and it flows unhindered into the sea, where it releases its nutrients. Nutrients from overfertilised farm soils, and farm animal dung, are washed into the sea without becoming part of the soil chemistry. Sewage from human settlements, treated or not, cause heavy loads of nutrients to enter the sea near human settlements.

Nutrients in the sea cause plankton blooms, and when these exceed what is normal (eutrophication), the plankton ecosystems become impaired, leading to unwanted effects like obscuring the light, thereby killing seaweeds. Diatoms in the plankton can join together in strings, forming suffocating mats. These can kill burrowing clams, and sessile filterfeeders like seasquirts, bryozoans and sponges. Some mats of blue-green algae can kill grazers such as sea urchins and snails.
Impaired plankton ecosystems can lead to concentrations of highly poisonous plankton organisms (mostly dinoflagellates), causing direct mortality of planktonic organisms like shrimps and larvae of many kind, and those feeding on these in the planktonic food chain. It leads to mass mortality of fish of all kind, but it spares those feeding solely on plants. It can also kill sessile organisms like sponges.

With the sewage and stormwater, come a large number of chemicals, used in household and industry. Many of these are poisonous, causing slow kill by being accumulated slowly in marine organisms.

The main effect of fishing is that mature fish are taken from the marine ecosystem, often by targeting specific species. In doing so, the ecosystem can become unbalanced, with the loss of large fish of some species, while small fish of other species are able to increase their numbers. Trawling also 'ploughs' the sea bottom, which could lead to the destruction of sensitive benthic (bottom) communities. However, the sea bottom is extremely flat and not prone to 'erosion', while also its soil organisms are used to large scale disturbance by storms.

Debris from fishing and marine transport are often ditched overboard, soiling the marine environment and snagging marine life. However, this threat is very small compared to those mentioned above.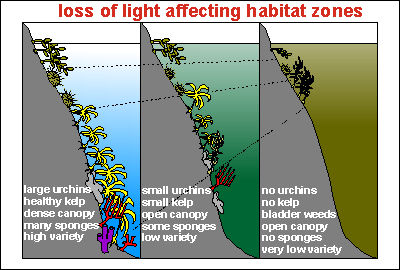 This diagram shows how seemingly innocent loss of light will degrade the marine environment profoundly. The image shows three cross-sections of a rocky shore. The leftmost is a healthy environment in clear water. There are four distinct habitat zones: the bladderkelp zone in the wave-washed surface waters, the barren urchin-grazed zone underneath, followed by a closed-canopy kelp forest. Beyond where the kelp can no longer grow through lack of sunlight, extends the deep reef habitat, represented by filter-feeding organisms like sponges.
As the water clarity decreases, all zones move up, and their total extent decreases. This is accompanied by the loss of many species, particularly those sensitive to poor water quality (like filter-feeders), but also many species of fish and plant. The kelp canopy opens up. Biodiversity and biomass decrease.
As the water becomes filthier still, the environment contracts further and different plants take the place of the kelp. The deep reef community disappears. Beneath all this extends a barren zone, covered in silt. The marine environment can barely exist.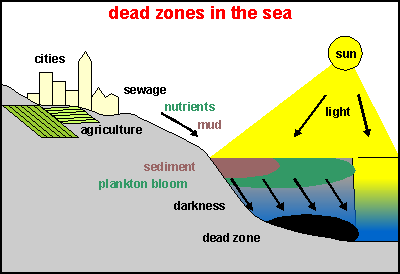 Dead-zones can be formed in the sea where large amounts of mud and nutrients flow into the sea, such as at the mouth of a river with a large modified catchment area (like the Mississippi). The water contains mud and nutrients from agriculture and human wastes. As the mud disperses, it releases more nutrients, while clouding the water. Dense plankton blooms follow, clouding the water further. Dead plankton organisms sink down as detritus, and they are recycled by bacteria breaking them down to nutrients again. This requires much oxygen. The darkness of the water prevents the phytoplankton from producing the required oxygen. As the situation worsens, more and more oxygen is used up until all organisms die, and a dead-zone is formed. As human populations increase and the land degrades, requiring more and more fertiliser, dead-zones will become more commonplace. At he mouth of the Mississippi River (west of it) now every year large dead zones form of 22,000 km2. these areas are totally devoid of fish and other life except for anoxic bacteria. Farming using excessive nitrogen fertilisers in the river's catchment area is blamed for this and a plan has been formulated to reduce dead zones by 30% by the year 2015.
Now that we have established that serious threats exist to our seas, let's look at the conservation tools available. They aim to make the resource last, hopefully forever. Most regulations are enshrined in law so that they apply to everyone, ensuring that all stakeholders are treated (disadvantaged) equally.
methods: regulating and designing methods aimed at causing less harm to the fish caught, those that escape, while also causing less collateral damage to non-target species like sea birds. By regulating mesh sizes, it is hoped that small fish can escape in order to take part in reproduction before being caught. Every method of fishing has its specific problems and regulations, discussed in the planned chapter on fishing.
sizes: it is believed that a fishery can be improved by size restrictions. Traditionally, the small fish are returned to the sea, and only the big ones are taken. The small fish will then be able to partake in spawning before being caught. However, large fish have large spawning masses and are more effective spawners. They have learnt how to do it and produce a disproportionately large amount of fertilised eggs. The small fish produce a large spawning mass, but relatively few fertilised eggs. So perhaps we should leave the big ones and take the small fry?
seasons: by closing the fishery during certain seasons, fish can be allowed to spawn in peace. In other cases, shellfish in poor state can be prevented from appearing on the markets. Trawled habitats are allowed to recover.
areas: by closing certain areas, it is hoped that fish can recover. Such areas can be reopened at a later date. A marine reserve is in fact a permanently closed area. Certain areas can be allocated to certain stakeholders, to foster responsibility over their management.
quotas: conditions can be set for joining the fishery, to prevent a wholesale bonanza. By allocating quotas for each species, the fishery can be limited, while at the same time giving fishermen the freedom to decide where and when to fish.
marine reserves: permanently closed areas of the sea are thought to give numerous advantages, discussed further in this chapter. The word Marine Protected Area (MPA) is identical to marine reserve, but often meaning that some form of extraction is allowed.
habitat restoration: for completeness, this point is mentioned here, although it is not a practical solution for the sea. However, artificial reefs have been created experimentally in many places, and ships are dumped for their value as underwater wrecks, expecting that they will be covered with sea life, while attracting fish schools as well. Where sea walls and groynes are placed, an artificial rocky shore is created. Any hard structure surrounded by a sandy bottom, will act as an oasis for reef organisms.
captive breeding: captive breeding of sea creatures is tempting because very large numbers can be raised, as opposed to threatened mammals or reptiles. The juveniles can be reared to a size sufficiently large to find their food outside the plankton, where they would fall prey easily. However, in practice, no successes have been recorded from re-releases into the wild.
education: a large part of our use of the sea is not regulated well. It concerns the amateur fishermen who take small amounts for private use, but because of their numbers, they can have a profound depeletionary effect. Education aims to foster responsibility by understanding the consequences of one's actions. This could lead to voluntary restrictions.
As one can see, our conservation tools are not able to stop mud and nutrients from flowing into the sea, which has become our main problem along our coasts. In the remainder of this chapter, we'll concentrate on marine reserves and their benefits and limitations. Fishery and its implications will be treated in a separate chapter. Perhaps it is the right place here to make an important distinction between conservation and management. Fishermen talk about management, and conservationists about conservation. What do they mean?
Management = the threats remain, but managed at a magnitude to cause no permanent harm.

Conservation = taking all (human-caused) threats away, permanently.
Marine reserves, like terrestrial wildlife reserves, can come in a variety of forms, depending on the amount of extraction allowed. In this respect it pays to review the following possible scenarios, arranged in order of the amount of extraction allowed:
a free commons: without any restrictions, people can take what they want and where. If you don't take it, someone else will. This leads to pillage and plunder for individual benefit. Read about the tragedy of the commons.
regulation: by regulating the extraction process, with the management/conservation tools outlined above, the rate of extraction can be controlled to keep up with natural replenishment. It can still lead to a collapse of the stock. By focusing on a single species, the environment becomes unbalanced, the consequences of which are poorly understood.
balanced extraction: instead of regulating a single species, whole habitat zones or areas are regulated and fished to maintain a balance in numbers of each species. However, the old animals still disappear, which creates another kind of imbalance.
protect but take some: an area is protected but a limited amount of extraction is allowed. This amount is kept well below the commercial targets involved in the kind of management above. In this manner the fish stock is not threatened, and imbalances in populations are not critical.
no-take protection: this is the present marine reserves concept. Within the protected area, no form of extraction is allowed. Any use causing damage to organisms is outlawed too. It is a cost-effective way to allow areas to recover. However, design shortcomings can render marine reserves ineffective, and neither do they protect against the main scourge, runoff from the land.
pristine wilderness: a concerted effort is made to create pristine wilderness areas, free from all problems and large enough to work, forever. It involves restoration of the land in the catchment area and around. A certain degree of education may be required before access is granted to visitors.
Which of the above scenarios will deliver the most benefit is not easy to say. Extraction gives measurable benefits to people, but is usually detrimental to the environment. However, all natural populations benefit from a limited amount of extraction, although some areas are too sensitive to sustain exploitation. Thus complete protection may not deliver the largest net benefit, but it has merits of its own. It must also be remembered that by relieving the pressure on one area, one therefore increases the pressure on other areas.

The terminology for marine reserves is rather confusing and differs in different countries. The Americans use the following terms:
Protected Area: recognises the uniqueness of a habitat, and protects biodiversity while allowing other uses (multiple uses) such as camping, tramping and even hunting.
Marine Protected Area: the same, but no restrictions on use. (food, products, souvenirs)
Marine Reserves or Biological Preserves: very restricted on their use (no take)

Australia has different names for zones of varying intensities of protection and restricted activities
general use zone:
habitat protection zone:
conservation park zone:
buffer zone:
national park zone:
preservation zone:
New Zealand also has a number of protected marine reserve concepts:
marine park: a no-take marine reserve created and managed outside the Marine Reserves Act, by local government or the Minister of Fisheries under the Fisheries Act 1996.
marine reserve: a no-take marine reserve, managed by the Department of Conservation under the Marine reserves Act.
taiapure reserve: an area set aside to be managed by the local Maori for traditional fishing. This usually but not exclusively, involves fishing for official gatherings (hui), which in the Maori tradition, serve meals with seafood (kai moana). The white man (pakeha) have, in theory, similar access to the fish resource, but require consent from the local (Maori) management committee (tikanga). The committee may decide whether commercial fishing is allowed, and how. The area is managed under the Fisheries Act.
mataitai reserve: an area of considerable traditional importance to Maori (tangata whenua). The fishing resource is managed locally for amateur catches only (by both Maori and non-Maori), but on a sustainable basis. Commercial catches are excluded. This type of reserve is enforced by the Fisheries Act.
---
Perceived benefits of protection
In New Zealand marine conservation started from the need of marine scientists to do undisturbed measurements in the sea. They needed a place where their experiments would not be eaten. But gradually the concept grew, and other benefits were perceived. Eventually a long and exhaustive list of benefits became the conservationist's argument for having more marine reserves. But first the simple list of expectations:
scientific research: an area where untoward influences and disturbances such as extraction, are kept out. this has proved to be quite beneficial for studying commercial species. However, the thousands of non-commercial (non-fished) species, can be studied equally well outside a marine reserve. Furthermore, many marine reserves do not represent the habitats frequented by commercial fish species, so they are of little relevance to scientific research about them.
baseline: the area would eventually stabilise at near-constant and maximum 'virgin' stocking levels, with a balance between populations. Other areas can be compared with this 'baseline'. An area excluded from exploitation, also enables scientists to study the (side-) effect of exploitation, by comparing the situation inside the reserve with that of locations outside. However, reserves need to be large in order to achieve this benefit. Also all threats need to be excluded, which includes runoff from the land. In practice, many reserves are degrading because of this. 'Baselines' are useless if they are not monitored and quantified, which is often omitted for lack of funds.
hatchery: the creatures inside the reserve will grow old and reproduce profusely, it is thought. Their offspring will spread to areas outside the reserve. Because the reserve is fully stocked, fish will spill over to adjacent areas where they can be caught. However, the reserve area is very small compared with the area outside, and their stocking levels are no more than 3 times better and good reserves do not "spill out".
insurance policy: fisheries management has shown to be flawed, for reasons insufficiently known. Marine reserves could then act as an insurance against human mistakes. However, the fishing outside has a negative influence on stock levels inside a reserve, unless reserves are larger than a few hundred square kilometres.
easy strategy: the no-take strategy is very easy to implement, police and to manage. No prior knowledge is needed; no sophisticated management techniques either (except for monitoring). However, marine reserves can easily be hampered by poor design. When very successful, they need to be policed constantly, because poaching pays well.
enjoyment: while serving its purpose, the marine reserve can still be enjoyed by others for fish watching, snorkelling, SCUBA diving and underwater photography. By separating the takers from the lookers, an area is created where fish can be enjoyed time and again. However, the sheer presence of thousands of visitors leaves a mark on fish behaviour and sometimes on the environment as well.
education: because the marine reserve is more natural and has more to offer, schools will use it for education. Universities will use it to train students and for qualification studies. It will put pressure on those reserves which are easiest to access.
The simple list of benefits above has expanded over time, with the addition of more and more detail. Just hang in there and read this list carefully, because it contains many fallacies, myths and duplications.
fishery: benefits of interest to fisheries management and fishermen.

protect spawning fish stocks: reserves can be placed over spawning grounds, thereby effectively protecting fish during the entire mating season. However, we should know such places exactly and they should not move around in time as fish choose to spawn somewhere else. Each fish species has a different way of replicating, most species not sharing the same spawning grounds. Marine reserves allow fish to grow old, thereby becoming effective spawners but they need to go outside to spawn.
increase spawning stock biomass: fish numbers and size increase within a reserve, thus their compound biomass too. However, the most important contributors to fertilised eggs are the old and experienced fish. Reserves need to be large to accommodate these. Most of our commercial fish species move around freely, and are not confined to marine reserves. They come and go.
increase spawning density: an increased number of fish taking part in spawning, could increase the spawning density, leading to more fertilised eggs. However, little is known or measured about this.
provides greater population fecundity/ reproductive capacity: is the same as mentioned above.
provides undisturbed spawning conditions/habitats/sites: same as above.
allow producing more egges/larvae: same as above.
provides export of eggs/larvae: same as above.
enhances recruitment: if more fertile eggs are produced, then more larvae and a higher recruitment may result. However, recruitment is dependent on a large number of factors, and varies enormously, whether the larvae come from marine reserves or not. Nearly all larvae spend a considerable time (days to weeks) in the plankton, during which time they are subject to considerable predation. In fact, it is little known that fish spawn mainly to produce food rather than offspring.
provides spillover of adults: It is claimed that a marine reserve improves fishing outside because of spillover. However, repeated measurements on tropical marine reserves have shown that this amounts to less than 35% of the lost fishery. What happens to small reserves, is that the spawning stock spills out, which is not what was intended.Note! spillover is always less than the lost fishery. Besides, in properly designed experiments it was shown that marine reserves act as a sink rather than source: they eat fish!!
provides spillover of juveniles: It is claimed that marine reserves attract more juveniles to recruit there. However, recruits do not know the difference and settle by chance equally inside as outside. Because the reserve is thought to be fully stocked, the juveniles recruited there find no room, and have to spill out. However, recruits are less likely to survive inside a marine reserve, because there are more and larger predators inside.
juveniles settle and adults migrate out: initially the abundance inside a marine reserve is caused by juveniles settling and growing to adults. It is claimed that this process continues and that adults migrate out. See the two points above.
fishing improves near the reserve: as adults spill out, fishing is indeed better near the reserve's boundary. However, this amounts to less than half of the lost fishery. Furthermore, because people fish the reserve's boundary intensively, the stocks there are very depleted, which invites more fish to migrate out of the reserve, thus depleting the stock up to 2-3km inside. It can render a small reserve ineffective.
reduces chances of recruitment overfishing: because fishing is disallowed inside the reserve, the recruits there cannot be fished accidentally as by-catch. However, if this is a problem, it should be fixed by fishing in a less damaging way, for the numbers of recruits fished accidentally outside the reserve, is many times higher. The numbers exempted by the reserve are negligible compared to the whole. Furthermore, all fishing methods aim to exclude juveniles, thus for the young fish, the presence or absence of marine reserves does not matter. For old fish it does.
reduces overfishing of vulnerable species: same as above.
genetic diversity increases within the large, old members of the population: marine reserves are very beneficial to old fish that stay inside. After a long period, more of these are expected, thereby increasing their biodiversity. However, their numbers remain very small compared to the numerous young fish inside and outside. An old fish does not have more genes than a young one. Thus biodiversity is mainly made up of young individuals, on which the reserve has very little influence. note that the concept of marine biodiversity is still grossly misunderstood.Evolution in the sea differs from that on land where the apple does not fall far from the tree(offspring are born near their parents).
protects diversity of fishing opportunities: ?nonsense?
reduces adverse impacts on fish genetics: same as above. It is thought that fished species adapt to fishing by becoming mature at a smaller size.
improves ability to recover from management failure: the reserve is not managed by fisheries, and is therefore insensitive to mistakes made this way. It acts like an insurance. Should fish have been wiped out outside the reserve, the reserve can provide new larvae and recruits to colonise the outside. However, reserves should be very large if they are to play such a role, and if they are not to be affected by disasters outside. Most disasters, natural or man-made, affect reserves just as much.
reduces inadvertent fishing mortalities: same as above.
reduces by-catch in the region: same as above. However, by exempting a certain area, one also increases fishing pressure on the other areas, resulting in the same by-catch of the combined area.
simplifies enforcement & compliance: marine reserves fall outside fisheries enforcement, but need their own enforcement and compliance. The whole becomes more complicated, because fishermen have to be kept out of certain areas, which was not the case before a reserve was established. Poachers have to be caught and punished using different laws.
helps reduce conflicts between users: it only helps to reduce the conflict between those who wish to observe, and those who wish to take, and it does this well. It does nothing to reduce conflict between trawlers and longliners for example.
maintains sport trophy fisheries: because fish grow larger inside a reserve, they may become good fishing trophies after dozens of years. However, a reserve which leaks old fish out, is not a good one. The number of trophy fish produced by a reserve is very low. One would not like trophy fish to leak out or to be fished for trophy because they are good spawners.
provides better management with less data: the idea is that marine reserves can make good anything that goes wrong outside. The extreme of this is to have the main part of the sea as reserve (say 70%), and a smaller part outside for fishing (say 30%). Then no management would be required at all. However, this is not an optimally productive situation. Besides, reserves do not work well for migrating stocks, which comprise by far the largest part of commercial fisheries.
facilitates user involvement in management: ?nonsense? the idea is perhaps that not just a clique of commercial fishermen have their say. Who are the users?
provides baseline informatin for stock assessment & fisheries control: in present-day fisheries, the assessment of today's stock is crucial to the decision as to how much to catch next year. But stock assessment is difficult and prone to large errors, and the knowledge is often delayed by several years. Since fishing has gone on for centuries before any management began, the sizes of the original (pristine) stocks are not known. Is today's stock 5% or 60% of what once was? In reserves that are large enough, stocks may be able to recover to their pristine levels, which would be of great benefit to fisheries management of the areas outside. However, fish stocks are rather 'patchy' while also moving around. Thus marine reserves need to be very large in order to gain this benefit, and they should also be located amongst the traditional fishing grounds. To establish fishing densities inside marine reserves using traditional scientific trawls, is often not acceptable. Thus we may never know whether a 'baseline' is reached.
stock reaches unexploited levels: it is hoped that the density of the fish stocks inside a marine reserve will level out as that for pristine stocks. We may be able to see what the sea looked like before the advent of fishing. However, marine reserves are still coupled to the outside, and influenced by what happens there. Some of the detrimental environmental changes have been global (exhaust gases, water cycle) or too large to control (effluent, erosion).

controls: a reserve can be used for long-term monitoring, without human interference. The data obtained this way, can give insight in the more natural state of the environment, like that of interactions between balanced communities. The situation inside can be compared with that outside, and the effects or consequences of our actions better assessed. However, long term monitoring must also be done outside, which will be the main effort due to its sheer size. Reserves are of course of limited importance to migrating stocks.
natural baselines & processes: same as above.
protection of work, focus for studies: same as above. Because experiments are not interfered with, they are preferably done inside a reserve. However, by far most marine species (say 99%) are not caught commercially, and are therefore not interfered with. Besides, natural events such as large storms, wreak the same havoc inside a reserve as they do outside.
continuity of knowledge in undisturbed sites: ?nonsense?
overlap: ???
restores natural behaviour: see above.

schools: where marine studies are part of the school curriculum, schools will find a visit to a reserve of benefit because there is more to see. The rocky shore for instance, is not harvested. However, the increased damage of many feet, the overturning of boulders and general habitat disturbance, become very noticeable half-way through the season. It kills the longer living organisms, and changes the habitats.
general public: the general public is allowed access, and many start to explore the water with masks and fins. However, the sheer numbers of people do leave their mark, particularly when the environment is sensitive (coral reefs for instance).
general awareness: a marine reserve draws attention and raises initial interest, which can be followed up by education. Initially, most visitors are entirely ignorant of what lives in the sea and how it lives there. They think that fish are stupid, cold-blooded animals and good only for food. After a visit, they become interested in feeding the fishes and giving them a good chase. But gradually they become fascinated by other aspects. They read a brochure, or the information displayed in a kiosk. They warm up to the concept of marine conservation. Without general awareness, such a process would probably not happen.
indirect awareness: people can become interested in the sea by watching slides, videos, drawings, and by reading articles. Many are too frail to swim in the sea, but a glass-bottom boat could give them a hands-on experience. However, there exists a relentless competition for people's indirect awareness by a million of other things. The sea comes in at low priority, because we don't live there. Then again, a marine reserve would enable photographers and writers to obtain the resource material to promote indirect awareness.
water sports: it is obvious that a marine reserve attracts SCUBA divers and their trainers. Snorkelling is favourite because of its simplicity and low cost. Marine reserves are also used for swimming, sun bathing, surfing, boogie-boarding, kayaking and outdoor education. With a bit of luck this too may spark awareness.

recreation: separates takers from watchers. This is what a marine reserve does with excellence. It creates areas where people are sure that the fish will be there next time. However, unstoppable degradation still runs its course, reducing both quality and quantity.
health: the idea is that reserves could act like marine green belts, like parks do on land. However, the green bits (plankton and seaweed) in the sea are not exploited, and a marine reserve does not have more of it than outside.
spiritual: it is indeed an awesome experience to have your boat anchored in a place of beauty; finding yourself surrounded by deep blue water and the cries of birds; seething waters, stirred by schools of surface-feeding fish; observing an incredibly diverse marine environment, studded with colourful fish who do not seem to fear; at night a cacophony of cries of homing seabirds and blue penguins squawking while drying their feathers. How do we set aside such places for our children and theirs in perpetuity? It is worth a lot to me.
monitoring: see above.
human effects outside: see above.
planning: by observing how reserves work (or don't work), how they are used, how life returns or fades, how communities interact, how natural cycles progress, valuable insight can be gained for designing future reserves and for managing these. However, very little is done in this area.

resource management: benefits for the management of our resources. These are the same as the benefits for fishing and fishery management, discussed above.

easier measurement of management effects: by providing controls. See above.
easier enforcement: see above.
insurance against:

lack of information or analysis: see above.
rare, large, sudden , unpredicatable events: ?nonsense? unpredictable events happen inside too.
political and management errors: see above
rapid effects of technology/ market forces on extraction: the effect of technology on the efficiency of fishing is very difficult to assess. Since fishing models use catch-per-unit-effort (CPUE), often taking a fishing day at sea as Unit Effort, they can make large errors when the technology allows a fisherman to catch ten times more each day than he used to. Was the increased catch due to technological improvement, or because there is more fish? Therefore CPUE is poorly related to stock levels, causing stock assessments to err on the high (wrong) side. Marine reserves do not provide help here either because it would be madness to have them fished for reference. The best way to assess stocks, is to do standard test trawls, ignoring new technology.
lack of enforcement: see above.

reducing the effects of incidental damage: see above.

ecosystem functioning and integrity: in case a marine reserve returns to a more natural state, with balanced communities, it will also function more naturally, and therefore more optimally too. Sea urchins are found grazing seaweeds and this provides food for their predators like snapper and crayfish. Sea otters rebound in a similar fashion, feeding on sea urchins that feed on the macrocystis seaweed in the USA.
ecosystem services: the world's ecosystems provide many services to mankind, like regulating the temperature of the planet, recycling our wastes (sewage, water, CO2) and so on. The idea is that marine reserves in their more natural state, help. However, by far the majority of ecosystem services are provided by lower organisms like bacteria and plankton. These work equally well inside as they do outside marine reserves.
high density effects: some species need densities for their survival. Some need it when mating or spawning, to get excited and to achieve better success. Scallops need to be close together for their male and female gametes to meet. Marine reserves could provide such densities, but only for those hunted outside (scallop, mussel, some fish). They must be placed where such organisms like to live. A rocky shore reserve cannot be expected to protect a sandy scallop bed.
physical structure of habitat: when a scallop bed gets trawled, the sea soil is more or less ploughed, which changes its structure and may prevent larvae from settling, or cause likewise effects (little is known!). A marine reserve suffers no such damage, and can develop the proper physical structures needed by its organisms. True. However, many shellfish beds have shown to thrive under moderate extraction, becoming more productive than without it.
composition, presence & abundance of species:

biodiversity at all levels: as food species become more numerous, so do the ones dependent on them, at all levels from the deep to the shallows, and from simple to complex organisms. However, since most species are not hunted (except in the tropics), little effect can be expected.
keystone species: the species on which others depend, such as for food, cleaning. They must occur in large numbers to be of importance. Marine reserves are indeed beneficial to these.
vulnerable species: those which are easily disturbed or damaged or caught.
threshold effects: if a species is all but fished out, its function may be taken by some other species, causing the ecosystem to 'flip', possibly so that the hunted species is no longer able to re-establish itself. It is thought that the presence of a small 'normal' situation among a vast 'abnormal' extent, is able to drive the 'abnormal' situation out and back to normality. However, this is not in accordance with ecological laws and has not been proved.
second order effects: as above.
trophic structure: fisheries collapses cause fishermen to fish for less desirable, often smaller fish. Eventually they fish for those species that once were food (prey, bait) for the large fish. These smaller fish occupy a lower trophic (food) level. Fishing thus lowers the average trophic level of the fish stock. A marine reserve may be able to revert this. However, the main recruitment into a marine reserve still comes from outside, thus at the lower trophic average established there. Relatively more bait fish will recruit than predators.

system resilience: biodiversity, overcapacity and replication are nature's weapons for resilience against adversity (see resource management/resilience). As discussed above, these factors are stronger inside than outside, but perhaps not more than twice as much. Main events happening outside, will influence the marine reserve like falling domino stones do, because the two are still strongly coupled. Clever marine reserve design will attempt to minimise such couplings but there is no proof.
high quality feeding areas: because there is more fish and variety, predator fish, birds and sea mammals can find their food more easily. Even with small shifts in population densities, this may amount to a large shift in availability of food for them (see resource management/economies of exploitation). However, a marine reserve needs to be large to achieve this. In order to sustain a pod of dolphins, a reserve may well need to exceed 200km2 in area. The Kermadecs Marine Reserve of over 7000km2 supports but one pod of dolphins. It would be easier to achieve commercial fishing at higher stocking levels. This would make commercial fishing easier as well, while making marine reserves less needed.

genetic: see above.
species: see above.
habitat: see above.
ecosystem: see above.

ethical/spiritual: benefits to our values and beliefs, which are impossible to measure. See above.

intergenerational rights: saving for our children. This is perhaps one of the most important qualities of marine reserves.
social: a place to meet and do things, swimming, boating, snorkelling, SCUBA. However, such activities have an influence on the environment. Swimming and boating are not dependent on the presence of a marine reserve.
aesthetic: enjoyment of existence. A natural, pristine place with friendly fishes.
heritage: preserving past significance.

economic: economic benefits.

efficacy/efficiency: because reserves do not cost much to establish, and because of their large perceived benefits, they may well be solutions providing 'most bangs for the bucks', or most result for least cost. However, no scientific proof exists, and the sheer amount of management and policing a large number of small reserves, may become unaffordable. Reserves, when properly used, do need a lot of money, see box below.
employment: it creates sustainable jobs in interpretation, management, policing, monitoring, science, education. However, for most of these a yearly budget of public money is needed, which is often overlooked when establishing a marine reserve. It is a hidden cost. When they are not managed locally, many of the proclaimed jobs and contracts, go to people living elsewhere, and the local area does not benefit. Displaced jobs are not compensated.
Marine Reserves Called Best Hope for Ocean Species

Population densities were on average 91 percent higher than those outside reserves. Biomass was 192 percent higher; average organism size was 31 percent higher; species diversity was 23 percent higher. http://www.ens-news.com/ens/feb2001/2001L-02-22-06.html. Myths & Fallacies (5).
Sanctuaries must get their act together

In 1991 the Potter Commission (commissioned by NOAA) suggested $30M/year as adequate funding. Actual amount was $4M. In 2000 actual funding became $26M/yr. A sanctuary must have: own boat, manager, outreach + science coordinator, interpretation centre, facilities. Congress decided that no new sanctuaries should be created until the existing ones establish active programs of education, research, monitoring and onshore facilities from the limited budget. But should sanctuaries be held up for lack of funding? The recource may be lost by waiting.
As one can see, the perceived benefits of marine reserves may not substantiate at all, either because such benefits have been constructed in our minds, lacking a sense of reality, or they may not eventuate due to poor reserve design, such as making the areas too small, or with their boundaries in the wrong place, or by lack of funding. This will be discussed in a further chapter. One should be skeptical about claims like those discussed above, also because some benefits will be achieved only in some situations. Coral reefs, for example, are fished in their entirety: reef fish for food, clams for food, shells and starfish for collectors, corals for aquariums, small reef fish for aquariums, seahorses for doubtful medicines, turtles and much more. It is understandable then that closure of an area then leads to spectacular recovery. However, in temperate seas where such elaborate extraction is unusual, and commercial fish species are mainly migratory, bottom dwelling or pelagic, the closure of an area gives a much less spectacular recovery or benefit.
It is furthermore helpful to remember that marine reserves do not protect against the following threats:
disasters: these can be natural or human-induced.

storms: large storms do not occur frequently, but they can cause severe damage, from which an area recovers only slowly. Such damage may be much larger than humans could cause. However, usually ecosystems have evolved so that they can recover their functionality readily.
rain storms: when hurricanes die out, they release a vast quantity of very heavy rain. In 1983, cyclone Bola rained out over New Zealand, causing massive erosion to the land and dense clouds of silt in the sea. Inside the Goat Island marine reserve it deposited a layer of 10cm thick clay, destroying deep shellfish beds (Atrina) and more. It took over 7 years for this damage to be cleaned up by successive smaller storms.
oil spills: marine reserves are just as likely to suffer oil spills as the areas outside. If marine life is more prolific inside, then oil slicks do more damage to marine reserves than they do outside.
poisonous plankton blooms: these have become more frequent and severe in recent years, able to kill a large variety of species and in large numbers. Marine reserves are in no way exempted from these.
gradual degradation: all along the coasts of all continents, the seas are degrading due to human activity and habitation. Marine reserves are not protected against this, neither do they have more resilience. The main indicator is the water's visibility or clarity. Coastal water should do better than 10m, but it has degraded to 5m and less over huge areas.
natural fluctuations: natural fluctuations are part of any ecosystem, although healthy ecosystems have less of these and not so severe. Many fluctuations are caused by temperature changes and world-wide climate events like El Niño.
ecosystem shifts: ecosystem shifts can happen because of extracting single species. The stress caused by the outside, is often too large to be negated by a marine reserve. Invasive introduced species can also cause ecosystem shifts. The marine reserve is too much a part of the outside to be exempted.

pollution: caused by human habitation and industry. Marine reserves do not protect against pollution reaching the sea.

erosion sediments: the natural forests have been changed into agricultural land everywhere in the world, and at an increasing rate, complete with ploughing the soil. Because of this and other earth works, the amount of sediment reaching the sea is over ten times what was naturally. It suffocates water-breathing creatures, reduces visibility, kills plants, fertilises the sea, and has a profound adverse effect on the marine environment. Marine reserves are neither exempt, nor more resilient.
sewage: particularly where humans congregate in their cities, the outflows of sewage are more than the environment can handle, although this is not immediately evident. The marine environment degrades, but only when the seas become nasty and poisonous, becomes the link between sewage and degradation visible for all. However, then it is too late to fix it. Sewage (treated or not) contains a very potent mix of fertilisers, to which plankton reacts instantaneously. Society must do more towards sewage recycling, or depositing it very far out in the ocean, beyond the continental shelf.
industrial chemicals: many industrial chemicals are poisonous and/or degrade slowly in the environment.
agricultural chemicals: these are used over vast tracts of land, and in large doses. So their quantities are to be reckoned with. Most of these chemicals aim at extinguishing life (biocides), ranging from fungi and bacteria to higher forms (worms, insects). Related life forms are also found in the sea, and they are similarly affected by it.
fertilisers: in Man's efforts to gain the most from the least land, he uses fertilisers past the amount, safe to prevent leaching from the soil. The fertility locked up in the sediment from erosion, also fertilises the sea, resulting in reduced visibility and poisonous plankton blooms.
anti-fouling: a special class of biocides is aimed at combating the colonisation of ship's hulls by marine organisms. They too are long-lasting, have a widely ranging biocidal spectrum and are effective in small doses. Such persistent biocides are released slowly by the paints on these hulls, affecting the environment where many ships are berthed. They can also be accumulated inside marine life.
nuclear: radioactivity has long-term components, which may spread through the entire ocean. A radioactive dump in the Atlantic may affect marine life in Hawaii. However, such threat has not yet eventuated, and it can be prevented at source.

introduced species: some accidentally introduced marine species have become invasive, causing measurable effects on the marine environment or even ecosystem shifts. Marine reserves are not excepted.
gene pool too small: if marine reserves were to exist on their own, their combined gene pool (of extracted species) would be much smaller than that of a properly managed fishery.
disease: introduced diseases or other diseases would spread well inside a marine reserve due to its higher densities.
old individuals: the way we fish is particularly disastrous for old and large fish, simply because during their lifetime they are exposed more frequently to the chance of being caught, and once caught, the natural investment of many years is lost instantaneously. Many old fish form lasting male-female pairbonds, which enhances their spawning success considerably. By catching one, the pairbond is destroyed and may not ever be repaired. Old fish need large territories and they habitually swim large distances for feeding and spawning. Marine reserves appear to be inadequate, also because a small reserve can have only few 'awesome' fish.

global changes: marine reserves cannot protect against global changes or against their effects on the environment.

global warming: won't prevent global warming or rising seas, and the warmer (or colder) seas will affect marine reserves as much as they do the rest of the sea.
increased CO2, NOx and SO2 emissions: emissions from burning fossil fuel, contain fertiliser components that fertilise the sea (and the land, and then the sea), causing the plankton to bloom more intensively. These reach marine reserves as much as they reach the outside.
increased ultraviolet radiation: ultraviolet light, unlike infrared light, penetrates the sea for several metres. In this zone it could cause death and mutations. Marine plankton organisms do not have ultraviolet-fending opaque skins, but are completely transparent, thus sensitive to exposure of this kind. However, the threat of UV radiation has existed for many millions of years.

fisheries collapses: marine reserves cannot stop fisheries from collapsing outside. But they may be able to help them recover more quickly. However, due to the variability in spawning success (one fish being capable of producing a million offspring), a reserve's beneficial influence may be negligible or unmeasurable.
migratory species: fish that move around (like tuna), do not benefit from marine reserves. Migratory fish such as salmon and tuna are good examples. But most of our commercial fish species are not locked in to a specific area either. They are so numerous because their habitat is large and contiguous (the vast sea bottom, or the open ocean), and this invites them to move around like migratory fish do.
bycatches: obviously, marine reserves do not protect against these.
wrong habitat: no marine reserve can help managing any fishery. Its main habitat must correspond to that of the fishery. For instance, a rocky shore marine reserve has no value for flounder fishery or deepwater or pelagic fishery.

science: most of all marine research is not done inside marine reserves, but inside laboratories and outside marine reserves, for the simple reason that the number of exploited species is very small compared to the rest of marine organisms. But there are areas of interest which can be investigated only inside the protection of a marine reserve.
monitoring: certainly all marine reserves should be monitored, but this does not lessen the need for monitoring the outside, a much bigger job. For assessing oil slick damage and insurance claims, such monitoring would pay for itself in the long run. As it stands, however, too little is done.
From the above, it becomes evident, that the best ways to conserve the marine environment, is for fisheries to get their act together, and for us all to reduce sediment and sewage flows into the sea. To fish in an environmentally friendly way does not cost more or yield less than what we are doing now. Fixing sediment and sewage, however, is a very much more difficult matter.
If we agree that conservation means taking all threats away permanently, then marine reserves have only little influence on the quality of the environment where other threats remain.

Having learnt what marine reserves can't do, what is it that marine reserves do particularly well?
protect age composition: the fate of slow growing fish is that they usually get caught before maturity. Often these fish are born female, only to change into males at a later age (protogynous). Where fishing is intensive, such males become rare. Fully protected marine reserves have shown to produce not only more fish, but over time, also older fish. For some species this means a decisive difference in the amount of spawn produced. But reserves must be large to achieve sustainable populations that do not migrate out.
protect a unique spot: some places in the sea are hot spots of biodiversity, a treasure to enjoy. Many of these are unique and irreplaceable. A marine reserve is able to protect such treasures for future generations, provided that there are no other threats, like pollution. Remote islands and sea mounts, which do not suffer from pollution, are such places where reserves will work. They furthermore support sensitive environments in need of protection.
protect scientific experiments: many scientific experiments require simple structures on rocks, attached to buoys, and so on, protected from people with vandalistic instincts. Fish and other organisms are laboriously tagged and observed. The marine reserve protects them from being eaten, but not from their natural predators.
separate the takers from the lookers: it is amazing how much damage one taker can do, hence marine reserves which allow some extraction, are not worth having for the people who come for looking.
attract people when access is easy: the idea of visiting a paradise with friendly fishes, is catching on, even though only 20 years ago, this was unheard of. Consequently, people wishing to do so, already outnumber those who wish to fish. Many fishermen are doing both. For a marine reserve to be of benefit, it has to be easily accessible.
help marine education: where else would you like to take your child or the school class to become acquainted with the sea? Let their first experience also be their best! Perhaps the most important quality of reserves is that they have been set aside for our children.
help underwater photography: where spearfishermen have worked, the fish have become very shy of people in the water. It takes a long time before they collectively trust humans again. Inside an established marine reserve, fish indeed gradually lose their fear, but due to ignorant human behaviour, some are frightened away.
Marine conservation did not happen overnight. It is a reactionary process, in which we react to problems as they occur, finding solutions as they are needed. But perhaps we need to think it through logically, from the ground up. What is expected of a protected area, is the subject of next chapter.

.
---
Objectives of marine conservation
Rather than imagining what reserves could do, this chapter deals with what the policies are behind marine conservation and how these developed. The objectives as expressed by various countries follows here.
USA National Wildlife Refuge System (NWRFS): predominantly terrestrially oriented.
preserve, restore and enhance in their natural ecosystems (when practicable) all species of animals and plants that are endangered or threatened with becoming endangered.
perpetuate migratory bird resources.
preserve biological diversity.
provide the public with an understanding and appreciation of fish and wildlife ecology and the human role in the environment.
However: it does not look at biological diversity overall, but only at endangered species and commercially or recreationally important species.

---
USA National Marine Sanctuaries Program (NMS, 1972)
to identify areas of the marine environment of special national significance due to their resource or human-use value.
to provide authority for comprehensive and coordinated conservation and management of these marine areas that will complement existing regulatory authorities.
to support, promote and coordinate scientific research on, and monitoring of the resource of these marine areas.
to enhance public awareness, understanding, appreciation, and wise use of the marine environment.
to facilitate, to the extent compatible with the primary objective of resource protection, all public and private uses of the resources of these marine areas not prohibited pursuant to other authorities.
Close observers mention that it suffers from the following problems: indadequate funding; no management; no research; no education efforts. It is interested only in values with respect to resource use and human use. It does not mention biodiversity, or a no-take policy. It is poorly defined in terms of conservational values.

---

WASHINGTON, DC, August 27, 2001 (ENS) - America's large system of nature preserves fails to encompass the full range of the nation's biodiversity, a new report shows. The study by U.S. Geological Survey biologists shows that the United States has selectively protected lands that lack commercial, agricultural or other human values, leaving entire ecosystems unrepresented. http://ens-news.com/ens/aug2001/2001L-08-27-07.html
Canada wishes to have a system of marine protected areas in place by the year 2010. It wishes to go along the following lines:
working with people & communities
respecting the treaty process
ecosystem based management
learning by doing, flexibility & adaptability
precautionary approach
managing for sustainability
It has established a working group to guide the process, with a mandate to:
provide policy, advice, interpretation
oversee public communications
manage a joint central system for tracking and monitoring the MPA.
ensure a consistent approach
co-ordinate efforts
The working group identifies, assesses and recommends priorities regarding:
key marine areas identified by government agencies, First Nations, marine stakeholders, community groups, academic institution, individuals
assessment according to MPA criteria
recommendation based on consistency with the objective of MPA strategy, & complementary to other marine uses & activities, as already planned regionally
decision making: recommendation reviewed by government. Additional studies may be needed. Management authority legalised.
management plan: the agency supporting the MPA is responsible for making a management plan: purpose, goals, objectives, how to be reached, permissible uses, where, what, when. Management plans are subject to periodic review.
Resource Management Act New Zealand (1993): Managing the use, development and protection of natural and physical resources in a way, or at a rate, which enables people and communities to provide for their social, economic, and cultural wellbeing and for their health and safety, while:
sustaining the potential of natural and physical resources (excluding minerals) to meet the reasonably foreseeable needs for future generations;
safeguarding the life-supporting capacity of air, water, soil, and ecosystems
avoiding, remedying, or mitigating any adverse effects of activities on the environment;
maintaining or enhancing the quality of the environment;
maintaining biodiversity;
exploiting at ecologically sustainable optimum yields;
protecting Maori taonga (treasure/heritage).
---

New Zealand Biodiversity Strategy, March 2000.
maintain and restore a full range of New Zealand's habitats and ecosystems
maintain the genetic resources of our important introduced species, which provide much of the foundation for our economy.
enhance community guardianship of our indigenous species and where they live, and promote co-ordinated community action to bring species extinction to a halt
New Zealand's Marine Reserves Act 1971: the purpose of marine reserves
for conducting marine research
total protection of all species
no disturbance
Additions and amendments have been proposed to the act, for it to protect biodiversity, to apply to the entire EEZ (370km rather than 23); to be more specific about its application and consultation process; to allow for a wider range of purposes rather than just for scientific research; to include references to the Treaty of Waitangi. Maori are opposed to no-take reserves because they want to exercise their traditional fishing rights.
New Zealand Department of Conservation's strategic business plan for 1998/2002
In New Zealand, the Department of Conservation is in charge of no-take marine reserves. Its strategic business plan for 1998/2002 sets the following goals for achieving marine heritage protection, based on recommendations by the Australian and New Zealand Environment and Conservation Council (ANZECC 1998):
establishing a representative network of protected marine areas.
effectively managing all marine protected areas.
providing the greatest practicable protection to migratory cetacean species.
reducing fisheries bycatch of seabirds and marine mammals.
Johannesburg WSSD World Summit for Sustainable Development, 2002 (Oceans and fisheries)
Encourage the application by 2010 of the ecosystem approach for the sustainable development of the oceans.
On an urgent basis and where possible by 2015, maintain or restore depleted fish stocks to levels that can produce the maximum sustainable yield MSY.
Put into effect the FAO international plans of action by the agreed dates: for the management of fishing capacity by 2005; and to prevent, deter and eliminate illegal, unreported and unregulated fishing by 2004.
Develop and facilitate the use of diverse approaches and tools, including the ecosystem approach, the elimination of destructive fishing practices, the establishment of marine protected areas consistent with international law and based on scientific information, including representative networks by 2012 .
Establish by 2004 a regular process under the United Nations for global reporting and assessment of the state of the marine environment.
Eliminate subsidies that contribute to illegal, unreported and unregulated fishing and to over-capacity.
Representative networks
From the above, it can be seen that marine conservation is still in its infancy. However, Dr Bill (W J) Ballantine from Leigh, came up with a proposal that enshrines the essence of a marine reserves system:

representation: marine reserves representing all habitats in all climate zones. A bit of everything everywhere (diversity).
replication: to have a few duplicates of each type, by way of insurance. A bit extra (overcapacity & replication).
networks: marine reserves to be located 'within reach' of each other, so that they may reinforce one another. Not few and far between (connectivity).
sustainability: the network and each node to be large enough to be sustainable on its own, regardless of the condition of the area outside. You must be able to see it on a map of the country (overcapacity).


f212116: Dr Bill Ballantine on his study area
It is not surprising that these principles correspond roughly to nature's way of achieving resilience, as discussed in Resource Management/natural resilience: resilience = diversity + overcapacity + replication + connectivity + adaptability. It suggests that adaptability should be added to Bill Ballantine's list; adaptability to changing circumstances and flexible management.
The amount of the sea proposed to be set aside, ranges from 10 to 50%, depending on the arguments brought forward. Those clamouring for 10% see it as an insurance policy. Those tending towards 50% see it as an alternative to failed fisheries management. Using New Zealand as an example, we'll have a look at what is involved to implement Bill Ballantine's proposition.


All climate zones, and replication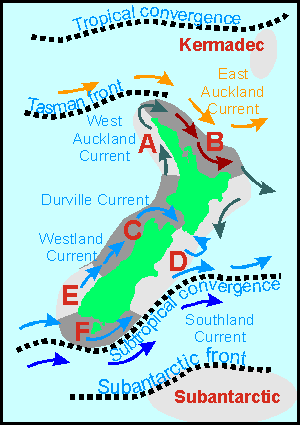 Countries with a west coast and an east coast, which are also stretched north to south, surrounded by isolated islands, have a large range of marine climate zones or biogeographical regions. The map shows those for New Zealand. Currents on the west coast are cold currents; those on the east coast warm ones. Just south of NZ the water temperature changes suddenly, south of the subtropical convergence, waters becoming subantarctic. The Kermadecs are a specialised case of subtropics, north of the Tasman Front. In all, there are eight marine climate zones, distinguishable by the organisms found along these coasts. We thus need at least 8 reserves, and when including some duplication, at least 16.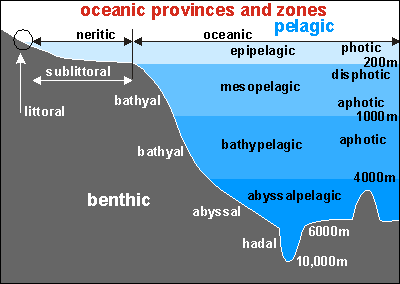 All habitats
The coastal benthic (bottom) habitat zones continue past the littoral (intertidal), down the sublittoral, which includes various habitats, from rock to sand and muddy bottom. Before it descends into the trench, four other habitat zones can be distinguished, all present around New Zealand. The deep pelagic habitat (oceanic), has an equal number of zones, as shown in the diagram. These zones are again represented by seamounts, rising from the ocean bottom to a few hundred metres depth, and within reach of fishing gear. Such sea mounts have been discovered to house a most varied community of fragile and long-lived deep water species, now targeted for protection. Note at this point, that deeper than 200m, the water temperature is about the same everywhere, so that tropical sea mounts have much the same habitats as subantarctic ones.
Where the coast is protected by outlying barrier islands, the coast is subjected to a varying degree of wave exposure, with its accompanying variety in marine environments. Several marine reserves are then needed to cover this kind of variety, which is not found on land.
Closer inshore, are found inlets and estuaries, each with their own water flow characteristics. At times, and by careful design, a single marine reserve can cover several habitat zones such as an inlet, a beach, a sandy and a muddy bottom, an exposed and a sheltered reef. Benthic reserves can cover both mud and sand flats and rock flats in a single area.
In all, our figure of 16 must now be multiplied by 2 or 3 for carefully chosen large reserves and 4-5 for small, randomly placed reserves. Thus the total number for New Zealand must be at least 30-70, according to this reasoning.

Sustainable networks
If it is true that fish larvae do not travel further than 100km, then marine reserves should be located no further than 100km apart. New Zealand's coastline is about 15,000km, which demands 150 marine reserves, spread evenly around. In order for a marine reserve to be sustainable, it should be sufficiently large. Experience has shown that 5-10 km2 is insufficient by far, and 50-100km2 is to be preferred, which surmounts to squares of 10km on edge. By this reasoning, a marine reserve should extend for about 10km, spaced by 90km of open access, amounting to 10% of the coastline in 150 reserves, or 150 x 100 = 15,000km2. New Zealand's entire land area is 270,500km2. Our coastal reserves would thus amount to just over 5% of the land area.
The folly does not stop here, because more and more scientists are now saying that marine reserves should not be separated by more than 20-30km and that 20% of the coast should be protected. For New Zealand this would add up to 900 coastal marine reserves!
Larger reserves can be created in the open ocean within the Exclusive Economic Zone (EEZ), which in itself measures 14 times our land area, or around 1.2 million square nautical miles (= 4,100,000 km2). The Kermadec Islands marine reserve consists of 4 circles extending to the territorial limit (12 nautical miles= 22.2km), or almost 7,500km2. To cover our EEZ with 10% in reserves, would amount to 550 additional reserves of this size.
These figures, and the amount of management and policing it requires, look rather silly. Proponents for 20% in marine reserves, make these figures look worse still. But the main question is, whether the public will lend support for such extravagance, and pay for its maintenance. After establishing the first marine reserve in Leigh in 1975, some 15 followed in the pursuing 25 years. Politicians now want to set aside 10% of the sea by the year 2005! Others will argue that we cannot afford not to. Common sense, however, says that the benefits do not outweigh the costs.
Rotational reserves
What about closing areas of the sea temporarily for a few years and then reopening them again while rotating such areas? What benefits and costs would be involved?
The main advantage is that areas of the sea are not permanently locked up from fishing and that their recovery is returned to fishermen in its entirety, whereas permanently closed areas return only a small benefit.
However, the slow growing species will be unable to reach spawning age (groupers and sessile filterfeeders like corals). Habitat recovery may take longer than fish recovery, however sandy/muddy habitat recovers quickly..
Rotating marine reserves thus will not be able to reach their full potential.
Rotation areas need to be very large in order to be effective, which may be socially unacceptable to subsistence fishermen having to travel much further out.
People have to be informed of rotational changes and they have to comply, which may take some time. They have to learn to know where it is.
For managing very large areas with few fishermen such as the Grand Banks in the Atlantic, rotational closed areas may provide a solution, but for coastal situations where many small fishermen are found, they are too invasive.
---
an historical perspective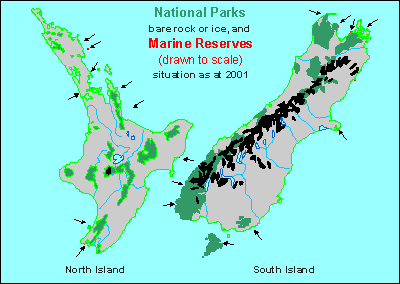 This map shows the North and South Islands of New Zealand side by side, and all terrestrial and marine reserves, to scale. It also shows in black the areas which consist solely of bare rock or ice. Click on the map for a larger version. The marine reserves hugging the coastline, have been drawn in red, but arrows are needed to show where they are. In all, there are an impressive number of 19 marine reserves, but when school children (9-11 years old) are shown this map, in order to give a report card for our conservation effort in 25 years, they give it their thumbs-down. When asked whether these marine reserves would have an influence on the environment, they unanimously say no. If we had ten times more, would that make a difference? After some hesitation they again don't believe so.
The land reserves or national parks as we call them, symbolise our first efforts in conservation, and today we are proud to have them, as witnessed by the many overseas tourists who come here for tramping, camping and canooing. But these parks have a number of things in common:
inaccessible: they consist of steep terrain, difficult to penetrate by foot and impossible by mechanised means.
unlivable: one could not make a living there.
unproductive: they are located over barren soils with too cold, too wet or too dry a climate. Much is covered in ice and snow.
unmillable: although trees were there, they were often inferior, and they could not be pulled out.
unfarmable: the soils are too steep and unproductive for farming.
So these national parks are in essence useless tracts of land that we could do nothing with. We could not even give parts away to returning servicemen after the war. But they could be 'fenced off' and set aside. Conservation was thus an accident meeting no opposition. It is a fact that most productive land has now been deforested and milled. The very prime of productive land has even been paved over by cities and roads. We have no sizable parks of the woodlands that once stood where productive farms extend today. The extensive forests of kahikatea swamp cypress have been cut up entirely to make butter boxes for exporting butter. A few forests of the giant kauri tree have been preserved by private initiative. Then the Department of Conservation almost allowed this precious heritage to be destroyed by the introduced possum from Australia. In the mountains various species of deer roam around, destroying the native forests and mountain vegetation. Everywhere introduced predators like feral cats, stoats, rats and even dogs, threaten the native birds who have not evolved to cope with predation. So the essence is, that everywhere on land, the threats remain, also inside national parks. Conservation there is thus questionable.

| | |
| --- | --- |
| f022119: people visiting a marine reserve with a dive mask on, will see the environment underwater. Expecting to be fed a little, many fish surround them, creating the impression that the reserve is a pristine place full of friendly fishes. | f022914: for those unable to go under water, a glass-bottom boat may provide first-hand experience. |
| | |
| --- | --- |
| f960810: Seafriends runs educational programmes for school children. Here they are shown the wonders of the intertidal zone. In order to minimise damage, we now ask students to go bare foot. | f214320: in high spirits and full of expectation, school children descend to the beach, dressed in full protective wetsuits. |
| | |
| --- | --- |
| f214323: before going into the water, they get instructed about how to use the gear, what to do and not to do, and what our safety rules are. For most it becomes an unforgettable experience. | f980424: the adventure begins. For many it is their first time in the sea. In a short time they learn to rely on the flotation of the wet suit, and how to use mask and flippers. All the time, fish are swimming around their legs. |
In contrast to terrestrial conservation, marine conservation was an entirely new idea, meeting fierce opposition, because of:
accessibility: the sea is a flat surface, of which every part is accessible by boat. Where it meets the land, it is accessible from two sides.
productivity: the sea is productive everywhere. There are no places too cold, too dry or too wet.
harvestability: what is produced can easily be caught and transported.
ownership: the sea is owned by nobody but used by many. It cannot be fenced or parcelled and handed out to people living on it. It acts as a commons, fished to extreme, because if you don't someone else will.
But as seen before, the sea is worthy of protecting, because:
nobody is living there
habitats have not been changed for farming, roading and dwelling
most species are not harvested
some species are overharvested, needing protection
no introduced species like possums, cats, dogs, stoats and rats are found
In the early 1970s, the idea of marine conservation was born, first for the purpose of scientific research, but the idea widened to include the environment as benefactor, and indeed people too. Today, the concept is marketed to the public on the premise of overstated direct benefits to themselves, and immediately. The concept is very attractive, because
it protects all species: no exception is made.
it doesn't cost much: only some paperwork, some signage and a law change is needed.
rules are simple: no-take!
we all win: there are immediate benefits for fishermen (not true), scientists and the public. There are long-term benefits for our children and theirs.
That marine reserves have found general acceptance today, is borne out by the 1300 MPAs established worldwide by1998. The dates for some of the better known ones are: 1935 Florida Keys, 1936 Gt Barrier Reef, 1941 Phillipines, 1958 Bahamas, 1960 Mexico, all in mostly tropical seas.
Back in the seventies, the failure of fisheries management was overly demonstrated by the collapses of one fishery after another: mussel, crayfish, scallop, oyster, orange roughy, snapper and so on (in NZ). Marine reserves would take this threat away, and the concept was powerfully simple. But after the mid-eighties, the situation had changed considerably. The Labour Lange Government under new-right policies of laissez-faire, had abolished the subsidy on fertiliser 'to remove price distortions' and 'to level the playing field'. Aerial topdressing stopped almost completely, and a few years later the hill country began bleeding into the sea. At around the same time our climate changed, and rains began to pour down in a tropical way, theirrain drops causing considerably more impact damage than usual on the bare soils, which were starved of fertiliser. At the same time, other subsidies for pest control were phased out and possums took reign. It resulted in accelerated coastal erosion. Encouraged by new markets, farming moved from sheep to dairy (milk cows), and fertilisers were applied generously to meet demand. These leached into waterways and into the sea. The new economic policies required immigration of wealthy asian millionaires with their numerous families, leading to a population increase, and with it a disproportional increase in waste and human sewage. While developing the land for shops and buildings, it became customary to landscape the soil on a grand scale, using an ever increasing number of earth moving machines. To sum it up, the land suddenly, in the course of only ten years, became the sea's number one enemy, and it is still getting worse rapidly. In November 1998, 85% of the crayfish in the Goat Island marine reserve demonstratively walked out due to filthy waters, only to be caught outside in no time at all. "The reserve has proved successful because the fish spilled over" said the local fishermen and the matter was laid to rest. (See also Conservation/Lessons from Leigh).



| | |
| --- | --- |
| f004414: view of Goat Island in the marine reserve near Leigh, New Zealand. It is an idyllic spot with exceptional qualities like clear water, shelter, many habitats, rich biodiversity, and safe swimming. Here divers are seen doing their final sea tests before the Christmas holidays. The coastal Pohutukawa trees are in bloom. | f013205: since about 1990, mud started to enter the marine reserve, which had not been seen before 1980. This mud kills those marine creatures that are unable to swim to safer waters. The environment degraded. |
Filthy seas are not an entirely new phenomenon. In the early 1900s, farming in the South Island has seen its share of dust storms and swollen muddy rivers, rabbit plagues and degrading tussock (a kind of rough desert grass) lands. When all is said about it, one cannot escape the impression of a massive ecological disaster unfolding over New Zealand. A new threat (heavy rain) over degrading soils, becomes a two-fold disaster: we are not only losing our precious soils, belonging to our children and theirs, but we are also losing our coastal seas, belonging to them too. Is this stupidity or fate? For this reason a large chapter on this web site has been devoted to soil and erosion.
The bottom line is that a new threat, and a bigger one than extraction (as proved by the crayfish walk-out), and less controllable, is wreaking havoc to our coasts, including our marine reserves, which cannot protect against it. A recent survey of our marine reserves by myself, has shown that most are degraded and degrading, and not worth having. See marine reserves index. It has become clear that we must change our focus in order to effectively save the seas, but above all we need to be honest.
Only by saving the land, can we save our seas.
Floor Anthoni, 1990
Cheaper by the dozen

In New Zealand the marine reserves issue has become a political hot potato, with protagonists clamouring for the moral high ground. We have major political parties talking about 20% of our seas in marine reserves, within a time span of less than ten years. We now have departments with budgets, whose sole task it is to create new marine reserves. In business-speak, the Government 'purchases' marine reserves from them. We now create marine reserves at any cost. It has become a numbers-game. In the meantime, the bureaucracy and some marine scientists have been dishonest to the public. The benefits they promised have not materialised and it is clear that they cannot ever be produced. We have over half our marine reserves located in the bad-lands of the sea, deteriorating year by year, without any hope of ever improving. We have deceived the public, and how long can this go on before they find out and withdraw all their support? We have become obsessed with quantity rather than quality.
New Zealand is marketed overseas as a 'green and clean' country, with hundreds of millions of dollars spent on promotion, marketing and advertising. In the end, even our own people have started to believe this myth. To say the opposite and to raise a voice of caution is now akin to blasphemy or high treason. It threatens people's jobs and incomes and the economy of the nation.
"The picture of conservation that I found in New Zealand, Australia and Malaya was distressingly familiar. Small bands of dedicated, underpaid and overworked individuals are fighting a battle against public apathy and political and big business chicanery. By and large people are only apathetic because they do not realise what is going on, but the most dangerous part of the problem is political apathy, because it is only at the top level that you can get things done."
Gerald Durrell in Two in the bush, Collins 1966.

The majority of nature reserves is far too small to support viable populations.
Gilpin and Soule, 1986: Minimum viable populations.
So many land reserves, but so few in the sea

A main argument brandished in favour of marine reserves, is that we have so many land reserves (over 1000 in NZ, covering about 10% of the land area, some say 30%), but so few in the sea. Thus it is reasonable to have as many sea reserves. So our 25 years of effort, resulting in no more than 19, is only a poor beginning, and we should have many more. The whole idea of land reserves, is to take them out of private ownership, so that they cannot be logged, burnt or built on, which would alter their environment irreversibly. The State will then look after them in perpetuity. Likewise, a sea reserve is taken out of the commons (no ownership), into public ownership for protection. However, since the sea is not under threat of deforestation, burning, logging or development, which results in a major change (destruction?) of the environment, the argument has little value for sea reserves. Also remember that the sea does not harm land reserves, but the land harms sea reserves. Sewage does not flow up-hill to soil montane parks. Our national parks are essential useless tracts of land that are inaccessible and unproductive, but our seas are valuable, accessible and productive everywhere. So there exists an important difference between the two, and the argument has no foundation.
Since land reserves have been created for many reasons (lookouts, unused bits of road, scenic, parks, farm parks, beaches, mountains, glaciers and even mining and logging), the reasons for having reserves in the sea should be equally flexible, it is argued. But the number of different uses we make of the sea, is much more limited: taking, farming and looking.
---
Saving marine biodiversity
A consensus appears slowly among scientists, about how to achieve marine conservation, although it is not clear which actions are least costly while most effective.
regulating land-based and maritime sources of pollution: by setting standards for water, sediment and air quality, it is hoped that these threats can be controlled. A distinction must be made between point-sources (factories, milk sheds, ships, refineries, sewage, dredging, dumping, spills, etc.) and non-point-sources (storm water, exhaust gases, farm chemicals, fertilisers, mud, acid rain, etc.). The first is best done by regulation, but for improving the second, we must all play our role, and education appears more suitable. It is claimed that this kind of pollution control is effective and broad ranging but does not protect specific marine species and ecosystems. It is not obvious whether dense cities are worst offenders, or the sparsely populated agricultural land, which is much larger.
integrated coastal zone management: rather than managing the sea (and reserves) separate from the land, one should integrate the two, in order to minimise the impacts of an exploding human population and its accompanying development. This recognises the interrelated functions of the coastal zone and has been successful in cleaning up the Thames, Rhine and other. For instance, when creating no-take marine reserves, the nearby catchment areas must also be considered.
direct regulation of marine resources: the classical approach of fisheries management, but perhaps extended by allowing more areas to be managed locally, such as a cockle bank inside an estuary.
regulation of harmful fishing technologies: nearly all fishing methods have harmful side effects. Trawl nets scrape the bottom and catch dolphins, seals and turtles. Longlines catch sea birds. Driftnets catch dolphins and billfish. With more inventiveness and some regulation, all methods of fishing can be made more environmentally friendly. However, there would be fewer problems if more fish was left in the sea: fishermen would spend fewer days at sea, do fewer and shorter trawls. Wildlife could find its food more easily, being less inclined to steal from a fishing operation, and being caught in the process. It is a simple method with double-edged results.
establishment of marine protected areas: some marine protected areas are needed for their obvious benefits.
use of economic incentives and disincentives: incentives can be used to encourage exploitation while fines can be used to discourage pollution. But a system of subsidies could be put in place to discourage people from doing what they think is normal:

not building on coastal land: living near the sea has its dangers, although these do not eventuate frequently enough for people to be aware of (tsunamis, hurricanes, erosion). Subsidies could discourage people from moving into sensitive areas.
subsidies to fishermen for not harvesting: it is a very good idea to give the sea a rest now and then, particularly to rebuild stocks. Fishermen could be persuaded to leave the fishery, which would reduce the pressure on fishing. Something similar has happened in farming, where small farms have been amalgamated into bigger ones, and farmers to retire, with the help of Government.
subsidies to farmers for not cultivating certain lands: Farmers respond well to subsidies, because their profit margins are low, particularly on lands that are marginal. Exactly these lands need the most care. Land is a precious commodity which must last in perpetuity. One could say that it belongs to our children and that we only borrow it from them. So the care of the land is of utmost importance, often underestimated. Subsidies for fertiliser, applied to marginal lands, is an important step towards conservation. (See soil/erosion)

education: nobody wants to pollute his own environment. It happens because people are ignorant of the consequences of their actions. Education is a powerful step towards winning people's support and changing their attitudes. Best Available Techniques (BAT) and Best Environmental Practice (BEP) are efforts to encourage industries to educate their members. Integrated Pollution Prevention and Control (IPPC) is another initiative, all supported by the United Nations.
monitoring its effects: the effects of our actions towards saving the environment must be monitored and their cost-effectiveness assessed. We need to be honest and have the courage to rescind (cancel) controls which are not working. We must be measuring pollution levels, mapping point sources and sensitive habitats,and monitor adherence to quality control procedures.
international co-operation: by working together on an international scale, nations can learn from each other's experiences and knowledge. Environmental laws and methods can be standardised across the world. International agreements work across national boundaries.
For a more complete treatment on environmental action, visit GPA- UNEP's Global Programme for Action. (Words are easier than effective and timely action). Note that only 40 years ago, all the above-mentioned activity would be of minor importance. Expecting the world population to double in the coming 40 years, it is unimaginable how regulated living will become.



De-facto marine reserves

In every sea-bordering nation, large tracts of sea have always been off-limits for fishing and anchoring. In New Zealand, these are the de-facto marine reserves, created for international shipping lanes, cable ways (1650km2), ammunition dumps (1344km2) and more. In New Zealand, a total area of over 3000km2 [1] has been prohibited this way for trawling and anchoring. This is a huge area compared to the total area in 16 coastal marine reserves of less than 150km2. One would have expected scientific research to have been conducted in these areas, for the benefit of knowing their importance to fishing and biodiversity, but in the almost a whole century that these areas have been available for such study, this has not eventuated. What's more, the fish stocks in these areas have declined like they have done outside, making the whole concept of marine reserves in our coastal seas, questionable.
[1] Setting Course for a Sustainable Future. Report of the Parliamentary Commissioner for the Environment, 1999 p37.

Reserves for fishing?

The main two stake holders in fishing (and thus conservation) are the commercial and the amateur fishermen. They blame each other for the demise of the fish stocks. Since one of the things a marine reserve does well, is to separate stake holders (takers and lookers e.g.), the idea arises to have reserves for amateur fishermen only. Their task is now to manage these areas such that fishing there delivers the most pleasure and yield. They will make the rules, without interference from others. This will face them with the consequences of their actions, while allowing scientists and fisheries managers to measure the effect amateur fishermen have on the environment. In New Zealand, the Hen and Chicken Island group off Whangarei would be an ideal testing ground, because the Poor Knights (nearby) has been taken from them as a no-take reserve, and fishermen like to anchor their boats in the shelter of islands and the mainland's coast.

Likewise, an area could be set aside for spearfishermen. It will give them the responsibility to devise rules to keep fish while eating them too. The Aldermen Island group, out from the Coromandel Peninsula, would be ideal since it has already suffered major damage from spearfishing.
---
Ecological aspects
Much of our understanding of marine reserves comes from imagining a kind of Garden of Eden (paradise) under water, a place with clear water, bountiful fish and wise old fish as well. When we visit one of our coasts today as a diver, we often experience something entirely different. Not only does the sea seem deserted, it also looks like an untended, withering garden, with dust covering the few bottom dwelling species that are left.

Those people who never visit the sea with mask and scuba gear, find it hard to imagine what the seascape looks like. Yet even those who do so frequently, find it hard to believe what the sea looked like long ago, when told by veteran divers, now about to die out. Children snorkelling in the shelter of Goat Island, are enraptured by their experience, being able to meet friendly fishes so close by. But all these people have one thing in common: they want to preserve the sea as they have known it. This raises the question whether we want to roll the clock back 50 years, or freeze the present situation. What would we need to do to achieve the one objective or the other or both? No-take marine reserves have been toted as the one and only tool for this purpose. But the assertion goes further. Marine reserves can also provide fisheries benefits because fish spill over from the area of plenty to the area of poverty outside. It all sounds plausible, but how can we understand it in an objective way? We do so by the theory of the economics of exploitation. (See Resource management/economies of exploitation)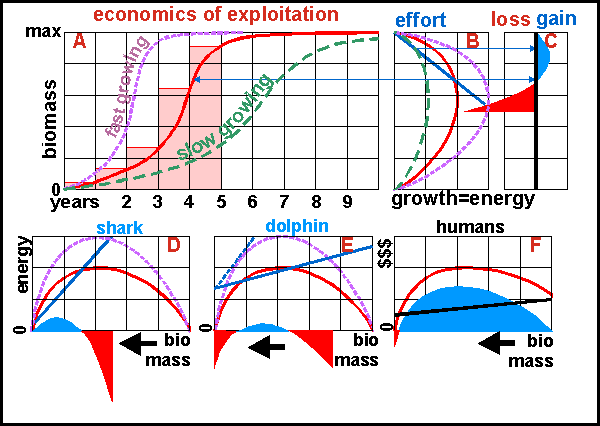 In order to stay with a familiar picture, we'll use the same diagram as presented in the chapter on Resource Management. The basic assumption is that a marine reserve can be thought of as a single population, although in fact, it consist of a large number of interacting populations, each grazing or predating on the other. When a place is almost entirely denuded, then left to recover, most of the quantities measured, like number of species, number of individuals and sizes, follows a logistics curve as shown in diagram A. This shows the quantity measured from low to maximum (empty to full) against a time scale in years. Recovery seems to proceed slowly in the beginning (years 0,1,2, the exponential phase) but it is in fact an explosive growth since recovery is not limited by restrictions of space and food. In the middle of the curve, growth rate is at maximum (maximal growth phase), after which it evens out because of lack of space or food (). Note that this part of the curve is seldom reached because all populations are kept in check by their natural exploiters. A pristine environment thus never reaches the max level. Notice the last (orange) step between year 4 and 5, which is about 25% of max. This suggests that in order to fish sustainably, we should not fish the stock down past 70-75% of its natural level. Even so, this would make life difficult already for other predators like dolphins who do not possess our technology.

In diagram A the growth curves are shown for a fast growing population (purple), medium growth (red) and slow growth (green). Think of them as the silver fish, the reef fish and the large predators. Diagram B shows growth horizontally, rather than time. As can be seen, growth is maximal somewhere near the middle. Note that in an ecological sense, growth equals a gain in stored energy. The blue line shows the effort (energy) required to fish from the three populations. Where the line intersects, more energy is gained from exploitation, than lost in the effort of exploitation. This then leads to diagram C, depicting the amount of energy gained or lost. Clearly, all species must gain more energy than they expend, or else they would die. So they are able only to exploit the stock down partially, which proves that natural populations are self stabilising. Note however, that food is not always easily available all year, so many organisms have alternative survival strategies.

The diagrams now continue with the situation for shark (D) and dolphin (E), not relevant now. But the last diagram (F) shows that human technologies have given us the power to exploit the stock right to its zero level, also because the rewards for our effort go up as the catch comes down and the price goes up. Humans have thus gained the power to destroy the environment, which no natural organism has. Fishermen often do not realise how effective their fishing methods have become. For instance, which natural hunting predator has a mouth hundreds of metres wide and half that tall? Trawling nets and purse nets do. Which natural predator attracts its prey by odours from food, from hundreds of metres away? Line fishers and pot fishers do. Which natural ambushing predator has a mouth tens of thousands of metres long and fifty metres deep? Gill nets do.

It is this awesome technology that allows us to exceed Maximum Sustainable Yield (MSY), somewhere in the middle of the curve, without us even noticing. Yet exceeding MSY means that the stock is being fished down, unable to restore itself to a healthy state. Note in this respect that nature has some invisible de-facto protection mechanisms like inclement weather, high seas, remoteness and unproductivity which leave many stocks relatively unfished. Having marine reserves in such areas makes little sense. However, close to populated areas, the sea has often been fished to extinction. The effect a closed area has, will thus be highly dependent on where it is located. A closed area on a heavily fished coast with clear water, will show spectacular recovery, whereas one located far away or in dirty water, will not. Obviously, if a marine reserve is small, its recovery will have but a small effect, due to fish leaking out.

We now come to the question of how much is spilling out to please fishermen? To answer this question, we treat the reserve as a single population, and leakage from the reserve as predation. It can now readily be understood that leakage should not exceed 25-35% of the stock if the reserve is to remain sustainable. This quantity is in fact equal to that of a sustainable fishery. In practice, such spillout is not possible, since natural predation inside a successful reserve is higher than outside, and many resident species do not migrate easily. The spill over from a no-take marine reserve can thus theoretically never equal or exceed the lost fishery! This argument is often lost on protagonists when they clamour for marine reserves as fisheries management tools. Note that actual measurements of spillover are supporting this. But there is another problem.

In order to protect slow-growing species (green curve), marine reserves must prevent spillout even further by creating disproportionately large marine reserves with wide buffer zones. These will protect old groupers and some itinerant (wandering) species, and provide for a healthier age structure. The problem is, that such reserves spill proportionally less fish out than those of minimal size. A good, sustainable marine reserve thus should not return more than 25% of the lost fishery! Marine reserves are obviously unsuitable as an alternative to fisheries management. But there is another problem.

Driven by the ideology of fisheries management with marine reserves, protagonists reason that networks of protected areas may be able to achieve this. It is thought that if marine reserves are kept small to maximise spill-out, then perhaps by having many of them within reach of their offspring (spawn, larvae), will make it work like one larger protected area. However, this does not alter the ecological reasoning set out above, and the total leakage from such a network should also not exceed 5% of the lost fishery. Having many small protected areas furthermore complicates their integrity, management and policing. Obviously, even networks of no-take protected areas are not an alternative to fisheries management.

Reader, please note that the above is not mainstream marine science, but derived from economic laws. It is the first time that clear evidence is presented of the quantity of the spillover effect, based on ecological principles. Please contact the author for comments or improvements.

---
Larval dispersal
Marine reserves are thought to benefit areas outside by their larger contribution to the offspring of fished species. Indeed measurements show that there are more and larger fish inside than outside. Their combined spawn mass has been calculated to be three times larger or more. As larvae are dispersed by ocean currents, tidal currents, eddies and wind-driven currents, they will mostly leave their origin, to settle somewhere outside. If more larvae are produced, then more will settle outside, where fewer predators are found. Thus the benefit of a closed area may reach far out.

Scientists are working all around the world to get a grip on this, and to prove where larvae originated from. They use sophisticated techniques such as DNA analysis, otolith marking and more. However, results are still elusive, and the theory remains unproven so far. Because there is a problem.

Planktonic ecosystems are the least understood environments of all, because their communities move fast with ocean currents; their organisms are minute, fast growing and short-lived. Some organisms are simultaneously plant, animal and bacterium. The green soup contains guilds (functional groups) of all kind: plants, grazers, predators, viruses, larvae of nearly all marine species, decomposing bacteria, nitrifying and denitrifying microbes and much more. Furthermore, the plankton ecosystems over the continental shelves live in close interaction with the sea soil and myriad organisms contributing their spawn. In this natural orchestra, timing is important as barnacles deliver their spawn right when larval food has become plentifully available, and so on. The fish larvae of fished species are but a tiny section of this orchestra. But there is another problem.

On land, animals produce limited offspring because to do otherwise would be wasteful and excessive. Mammals give birth to one or a few babies, insects to hundreds and plants to thousands of seeds. Some of these produce fruits to help dispersal. But in the sea, both animals and plants reproduce profligately (wastefully) to the extent that for most species less than 0.01% of their spawn will ever produce a replacement (recruit). Such waste is needed to convert the sunlight into ever larger food particles, in stages, which we call the food chain. Whereas on land two or three stages from grass to sheep to wolf are common, in the sea this consists of many, from phytoplankton to zooplankton, to larvae, to small fish, to bigger fish, to predators, to apex (top) predators. Even the zooplankton has many stages as many larvae grow over ten million times before they leave it, to settle out where they belong (recruiting). So, the path from spawn to recruit to adult is one of extreme waste and extreme uncertainty. It can be said therefore, that marine creatures spawn mainly to make food (over 99.99%) rather than offspring (less than 0.01%). Note that small fishes such as triplefins cannot afford this kind of waste, and they have resorted to various means of nest care. Note also that predation (exploitation) is very natural in the sea, reason why many fisheries have survived human onslaught. But where does that leave the additional spawn mass from marine reserves?

The whole planktonic ecosystem, although oscillating wildly, is on the whole looped back (effects influencing their causes) in many mysterious and unknown ways. For instance, as the predators in a marine reserve increase, and with it their spawning mass, the spawn of the creatures they feed on decreases, and thus the food for the predators' larvae. For instance, snappers eating sea urchins will reduce the urchin's spawn, which causes a major decrease in the total spawn from the reserve. Urchins are closer to the base of the food chain, grazing on fast growing algae. Because they do not spend much energy in moving, they produce disproportionately more spawn. Because predators move around, while wasting energy also in other ways, they must eat many urchins in order to gain the energy to produce the spawn equivalent of one urchin. As a result, the larger fish decrease the total amount of spawn from the reserve, which also reduces the food for their own larvae. In all, the whole issue of larval production and dispersal remains academic and of little value to fisheries.



The thistledown effect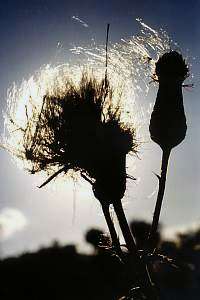 Thistles are invasive weeds, quick growing, fast seeding plants which propagate over vast distances by the shape of their seeds. These bulk up by a network of fine hairs, so that they can be carried by the wind. It is amazing to find them crossing the sea for 40km, to arrive at a remote island. The fluffy seeds are called thistledown.
Marine organisms have a similar advantage, because their eggs and larvae are carried in the water, while sea currents transport them far away. Fish larvae can travel 50-100km, and 'stragglers' may arrive from warm waters, 1000km away. The thistledown effect is claimed to give marine reserves a disproportionately large advantage as a source of tiny colonisers, acting like an insurance. It is reasoned that even a small reserve can produce a lot of larvae, an acceptable assumption because fish there are about twice as numerous and larger than outside, producing three times or more eggs. Large fish can produce over a million eggs each, by far enough to restock the entire outside, one may think.
However, this is not how nature works in the sea. A vast overkill in larvae (from all species and phyla) is needed to convert the energy of the sun into parcels of energy (little fish) that are large enough for sizeable fish to eat. This happens in stages, which we call the food chain or food web. Thus a predator fish in the end, lives from food produced by its own eggs. It illustrates nature's intricate system of harmony between its many players, and it explains why so many sea creatures are broadcast spawners, wasting almost all their eggs in reproduction. It is a survival strategy that, although wasteful for each, is beneficial for all. Fisheries scientists, accounting only for some fish species, while believing that a low stock is able to produce enough offspring, apparently are ignorant of the intricacy of such food chains. This is one of the main reasons that fisheries worldwide collapsed. If we wish to save commercial fisheries, we must manage them with larger and more balanced stocks. Marine reserves would simply not help. The thistledown effect is a myth, with neither scientific proof nor foundation.
---
How marine reserves can fail
It is not entirely certain, how failure can be defined. Some people argue that if a reserve saves only one fish, it is worth having. They do not seem concerned that an important freedom of the seas, to be able to go wherever one wants, to take whatever one can get, is taken away from people making a living or enjoying the sport and thrill of it. People on little income often depend on the sea for sustenance. Minimising costs by going out in small boats, these people fish wherever shelter can be found from waves and wind.

Man has always lived with the sea in close harmony, taking what he needs from its seemingly inexhaustible larder. The whole marine ecosystem is a fish-eat-fish world, where predation is common fare on many levels of the foodweb. Predation by people is just another facet. For time immemorial, people have lived with the sea this way and this has become the natural situation. But now there are just too many people demanding their share. Instead of taking, we have entered the more difficult era of sharing. Now it is no longer reasonable what one can get, but what one can leave for others.

Marine reserves aim to save some unspoilt areas for present and future generations in a state that will not worsen over time. They are like time capsules, where time stands still. However, many marine reserves have failed. Why? Here are some important causes, arranged by their severity:
environmental degradation: threats by human activities on the land. Some 40 percent of the USA's waterways are unsuitable for fishing. Commercial overfishing, habitat loss, and pollution threaten fish populations nationwide.

mud: due to poor land management, urban development and roading, the land erodes much faster than under natural conditions. In New Zealand for instance, much of it disappears about 30 times faster than the soil can regenerate and some 50 times faster than what was once natural. Mud in the sea suffocates marine organisms. It changes the structure of the sea bottom. It also releases nutrients from the fine clay particles, causing virulent plankton blooms. Such thick soup can become poisonous to many species from all phyla (main groups). No marine reserve can guard against this threat. This has become a serious problem in New Zealand and elsewhere, reason why marine reserves will fail in most of our coastal waters.
agricultural run-off: the runoff from agricultural land contains next to mud, also excess fertilisers, agricultural biocides and at times hormones used for meat enhancement. These cause similar problems as described above.
sewage: particularly where human concentrations are high, the damage done by sewage can outharm those mentioned above. Even when treated, human sewage still contains all the necessary nutrients for life, and in powerful concentrations. It causes severe plankton blooms.

overfishing: An area such as a scallop bed may have been overfished to the extent that recovery has become impossible. The sea bottom's structure may have changed such that larvae won't settle there any more. The organisms may occur in such sparse concentrations that their spawn can no longer meet for fertilisation (Allee effect). If the area outside has been fished very severely, the spill out of the reserve may become unsustainable.
poor reserve design: most reserves end up as a compromise to human needs. Hardly anyone knows the sea well enough to understand what marine organisms need in order to form sustainable communities. As a result, most marine reserves have serious shortcomings such as small size, poorly chosen locations, boundaries, and so on.
poor policing: whenever a reserve becomes successful, fishing inside will become quite rewarding. If policing is inadequate, poachers can very quickly cause such damage that the reserve appears to have failed. In poor countries where policing officers can be bribed, marine reserves are doomed to fail.
resentment by the local communities: compliance cannot be legislated for to be successful. It must primarily enjoy the support from those who gave up their rights to fish. Consultation, co-operation, retraining, local management, self-policing and taking part in fish counting are important ingredients for success as well as a locally managed budget/subsidy. Where marine reserves are managed centrally (by a government bureaucracy), they are doomed to fail.
loss of information: stored information is an important ingredient of resilience. It is found in the genetic code to grow new organisms (DNA), the age and family structure and composition of ecosystems and their soils, and it is found in collective knowledge (fish schools, flocks of birds, herds of grazers). It embodies day to day knowledge about where to shelter, to sleep, to feed, what to feed on, what not to feed on, how to catch and seasonal knowledge how to migrate. It also teaches how to spawn, where to congregate and much more. This information can be lost easily, resulting in a species' inability to recover (Allee effect). It is thus important to protect before an environment has declined too far.
One thing is certain: if a reserve gets worse over time, it is not sustainable.
With all the discussion and research on marine reserves, there is still no agreed method for assessing the health of an area, and whether it is getting better or worse. Worse still, many researchers are so single-mindedly focused or so inexperienced, that they are unable to see degradation. This is not entirely surprising, since one has to learn to see what is no longer there. Degradation does not readily show in species lists, fish counts and fish catches. Other methods are needed. As a result, conservation managers are often unaware that their marine reserves are or have become unsustainable.
For more information, read the section on observing degradation (new) and marine reserve design (planned).
Also in the indepth section, why reserves fail and more (easy reading).
-- home -- conservation index -- top --

---
.