SEAFRIENDS has changed.
For café, snorkel hire, school programmes go to the Octopus Hideaway
For learning about our seas and planet, begin at the home page of seafriends.org.nz
Swimming with the friendly fishes
in the Goat Island marine reserve
by Dr J Floor Anthoni (2007)
www.seafriends.org.nz/fcl/swim.htm
The Goat Island marine reserve was established in 1975, and since then, the fished species like snapper and crayfish have become more numerous. More importantly, they have become used to people swimming with them, and some have even lost all fear. So, what would it be like to snorkel in this 'marine aquarium'? Try this unforgettable experience out and come snorkelling at Goat Island, but first check the sea conditions.


where - snorkel/dive - hire prices - safety suits - sea conditions - Goat Island - café - aquariums - schools
-- Seafriends home -- about seafriends -- Rev 20070808,

---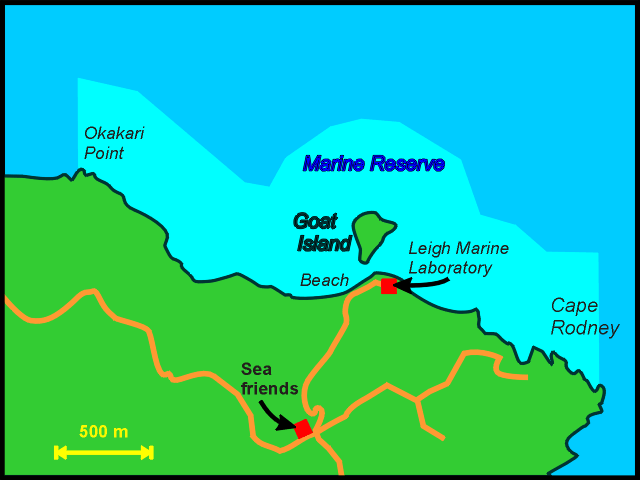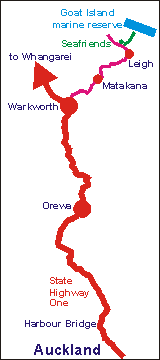 You have arrived at New zealand's first marine reserve around Goat Island. This map shows how this marine protected area hugs the coast from Cape Rodney to Okakari point like an 800m wide ribbon. It was established to give the marine scientists at the Leigh Marine Laboratory of the University of Auckland a place to do their research and investigations. Therefore you may not disturb the environment or take anything with you. On this map you can find where the Marine Laboratory is located. You will also see that Seafriends is located at the beginning of the Goat Island Road. don't miss it!
Follow these links to read more about the Goat Island marine reserve and about marine conservation and how we expect too much of marine reserves, which results in myths and fallacies. Obviously we need to be smarter.
| | |
| --- | --- |
| This aerial photo shows at left Goat Island, in the middle the Goat Island Channel and Goat Island beach, and middle right the car parking area. In the middle distance you see the large Marine Laboratory and at the horizon Little Barrier Island. Cape Rodney is hidden behind the hill, but all sea to the right belongs to the Hauraki Gulf. | This aerial photo shows most of the snorkelling area on the sea, and as you will notice, the sea is not very deep, on this photo 7m at most. The dark patches are seaweeds, mainly stalked kelp, whereas the light patches can be either barren rock or sand. Most of the sandy areas flow like rivers between the rocks. Roughly between Goat Island and the beach is Shag Rock, where you will encounter many fish species. |
| | |
| --- | --- |
| Goat Island beach can be as wide as this during a spring low tide, but when the tide comes in, it disappears under water. During southerly winds, the beach is very sheltered and the water usually clear but cool because the warmer water is blown out to sea. | Another view of Goat Island beach shows that one can also claim a spot on the grass. On warm days in January, the beach area can be as busy as shown, while car parking becomes inadequate. |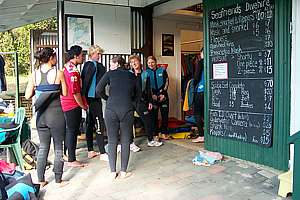 Of course you haven't come to Goat Island to just lie on the beach. You want to swim and look at the fishes. For this you need a good mask and fins and to protect yourself, also a good wetsuit. Do not be tempted to hire these anywhere else but from Seafriends, because in doing so you will enable us to maintain and expand this educational web site and run school programmes, while also fighting to save our seas for future generations. Become a Seafriend!
At Seafriends you will be amazed at the hundreds of dive and snorkel suits, masks and fins and their high quality and cleanliness. The staff at Seafriends take their time to make everything fit precisely and they also give you advice on the conditions of the day. Follow these links for hiring dive gear, and how to use it, and for dive gear prices. For big groups and schools we have special discounts and an unforgettable school programme consisting of snorkelling, beach study and lecture with aquarium visit.
| | |
| --- | --- |
| The most awesome experience of swimming with the fishes is seeing large snappers like Mr Perfect almost at touching distance. Mr Perfect is over 20 years old. | The very large snappers have been given names so one can tell others. This is Panda on account of its dark eye and snout. Panda is over 30 years old. |
| | |
| --- | --- |
| Already near the beach the friendly fishes are waiting for you. When feeding the fishes was not prohibited, the fishes learnt quickly that people brought food, and this they still beg for. You may wish to read whether feeding the fishes is a bad thing. | A good photo of large snapper, blue maomao and silver trevally milling around the snorkeldiver. |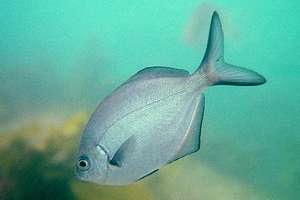 If you want to know more about the many fishes that you see either around you, or at some distance hiding under a rocky ledge, you will most certainly be interested to read all you can about Goat Island. In this very informative and large chapter you can read about the history of Goat Island, its many secret dive spots and its many inhabitants. This little fish for instance, looks like a blue maomao but is in fact a grey maomao or sweep. We are also working on a large section about species identification and classification, and the blue maomao and sweep are already there, as is also the snapper, goatfish and several others you will meet on your very first swim.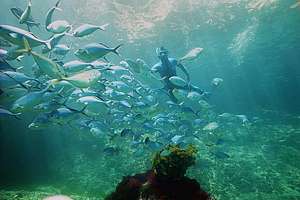 Snorkelling in the sea, unimpeded by clumsy dive gear, is hugely interesting and exciting. It can also be very safe, much safer than swimming without mask or fins, if only you knew how to do it. Experienced snorkeldivers or free-divers as they are called, can stay under for up to a minute on a single breath, reaching depths of 10m or more, and you can do this too. Once you have mastered it, this skill will remain with you, wherever you go. So read our snorkelling without fear course and follow it to the letter. In this free course you will learn how to use mask and flippers and what to do and not to do in the sea. You will learn techniques for going in and out of the sea, and for staying down on a single breath. You'll be amazed how much you will progress in a single hour. Tell others about it.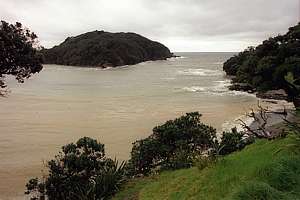 When there is no fishing in a protected area, one would expect the fishes there to become more numerous, and also older, thus bigger. This is entirely true in an ideal situation, but unfortunately the seas around New Zealand have become rather sick. Everywhere, even inside protected areas, there is less fish and many species are disappearing from their areas. Goat Island is no exception. Apparently, marine reserves do not protect against the new threats in the sea. Read more about the promise and disappointment of marine reserves and how New Zealand's shellfish populations have collapsed.
For instance, in winter time, when people do not visit the marine reserve, the sea can look quite different as this photo shows. Mud has entered the sea from the land, and this creates serious problems for marine creatures, without exception. Obviously a marine reserve does not protect against this kind of threat. You may now be interested to read more about marine degradation. It is a terrible and rapidly worsening situation that we must fight with all our might. By doing business with Seafriends, you help to fund this fight.
Seafriends Marine Conservation & Education Centre and Café: 7 Goat Island Rd; Leigh. Ph/Fx 094226212; e-mail.

---
.