Sand is one of nature's basic elements,
on land an important factor
in the composition of soil,
at sea the bed and home of many
marine life forms,
an ever renewable source of sand.
The function of a beach
is one of collecting and recycling
of debris from land and sea.
It forms a flexible and adaptable edge
between the land and sea.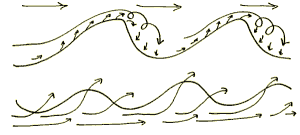 Dunes are shaped by wind in forms resembling waves. Wind speeds up on their crests and sand from the face of the dunes is sucked up into the low pressure space and carried over the dunes.
Along a beach, the low pressure made by the aerodynamic features of the dunes often cause the winds to swerve inland and deposit sand on the dunes behind the foredune.